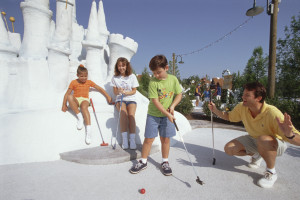 With all-new shows, attractions and character meet-and-greets starting in time for summer, now you can see the "World" in a whole new way! But did you know that Disney's theme park ticket add-ons can help you personalize your visit—and include additional activities and destinations?
A ParkHopper ticket gives you the flexibility to visit more than one theme park a day (or all four in one day, if you're up for it) on each day you have park admission. This allows you to take advantage of morning and evening Extra Magic Hours at different parks (which can even carve out more time midday to relax, if you want!) It also opens up theme park dining possibilities, so you aren't limited to fitting everything into a specific day (or days) during your visit.
The Water Park Fun & More option is a perfect ticket feature for summer, when you'll want to cool off and build in down time between park visits. Here are ways you can break up your day:
You can visit Typhoon Lagoon or Blizzard Beach for any of your water visits—or both, even in the same day!
You don't have to use your water park days and theme park days on the same day. For example, if you have a 5-Day ParkHopper with Water Park Fun & More, you have up to 14 days to visit the theme parks five times and the water parks five times, so you can schedule this however you'd like. Since you don't need to schedule FastPasses or make dining reservations for the water parks, you can be more spontaneous with those visits!
Golf fans can enjoy a family-friendly visit to Disney's Oak Trail Golf Course, a 9-hole walking course that's also a wildlife sanctuary. (Tee time reservations can be made online ahead of time, and green fees are included.)
For some more family fun, you can visit one miniature golf course per day, for one round that begins before 4:00 PM. Miniature golf courses include Disney's Winter Summerland (near Blizzard Beach) and Disney's Fantasia Gardens (near Disney's Boardwalk.)
ESPN Wide World of Sports admission is also part of the "More!" Visit this premiere sports facility with ten different venues that can host more than 60 different sports!
When you add ParkHopper AND Water Park Fun & More, you can save on the individual cost of each option. Ask your Middle of the Magic Travel Planner about additional summer savings offers! We'd love to help you coordinate the details of your family's summer vacation!