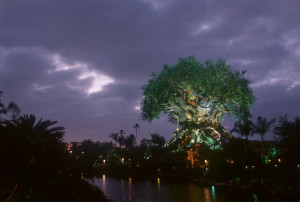 Animal Kingdom is a special place that combines the magic of Disney with the splendor of nature. A few of its thrilling daytime encounters include close-ups of giraffes stopping a safari for lunch, narrowly escaping the wrath of the Yeti, rescuing a dino pal from prehistoric times, and bringing Disney's favorite animal stories to life on stage. But this summer, get ready for a whole new world of excitement after dark (and extended park hours!) You won't want to miss the kick-off of these brand-new evening features, coming just in time to "awaken" your summer vacation!
Rivers of Light: Animal Kingdom's first-ever nighttime show is a tribute to nature featuring live performers and special effects in a brand-new outdoor theater!
Tree of Life Awakenings: See the theme park's icon come to life with color and projections, as it tells stories (and celebrates life) in a way that only Disney can!
Discovery Island Carnivale: If you love Disney dance parties, this is one you won't want to miss. Join stilt walkers and musicians as they bring the magic to the streets!
Harambe Wildlife Parti: Walk on Disney's "wild" side when the sun goes down at this African festival that includes singing, dancing and acrobatics.
Kilimanjaro Safaris: An all-new adventure awaits when you explore the savanna at night! (Expedition Everest and Kali River Rapids also offer a whole new perspective after dark!)
Tiffins: This new restaurant in Discovery Island will help you "discover" the flavors of Asia and Africa in a different light! Take your taste buds on an adventure with worldwide cuisines (and a wine list!)
Nomad Lounge: For a more casual drop-in, small plates, beer, wine and mixed drinks from around the world, visit this new lounge right next to Tiffins.
Contact your Middle of the Magic Travel planner for more details and to incorporate these unique experiences into your Disney World vacation this summer, beginning May 27th (except for Rivers of Light, whose opening date will be announced soon!)