A short time ago in a galaxy not so far away, Middle of the Magic Travel's expert travel planners rendezvoused in the happiest place on earth to experience Disneyland's new and highly anticipated addition Star Wars: Galaxy's Edge. This land is deep in the Star Wars story and takes place at Black Spire Outpost in the land of Batuu. Black Spire Outpost is a place for smugglers to hide from society and the Resistant to plan its rise against the First Order. We are very excited to bring to you our first reactions and some tips to our readers.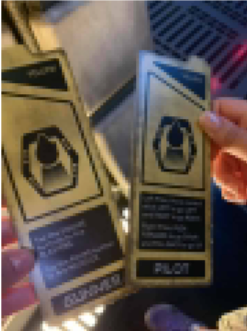 Smuggler's Run, the Millennium Falcon experience where you get to become a team member charged with smuggling important cargo back to Black Spire Outpost. This attraction puts you in the cockpit of the most infamous space vehicle that made the Kessel Run in under 12 parsecs. Friends, you get to fly this machine and IT. IS. SPECTACULAR! The height requirement is 38 inches so most 4 year olds can help family members in the smuggling trade. What we love most about this attraction is that is appeals to both the younger fans (Hondo from Star Wars Clone Wars & Rebels) and older fans (The Millennium Falcon for the original trilogy) of Star Wars.
Oga's Cantina is the local spot for a cold drink, serving both adult and child friendly pre-made concoctions. Oga's so desired that you MUST get a reservation in order to get a 45 minute stay in this watering hole. Keep in mind, this is not a place for you to fill your belly, but fill your Star Wars heart and to wet your whistle. Currently, the best way a reservation while visiting Disneyland is to make the reservation first thing in the morning when you enter into the Disneyland park. You can NOT make them in advance. You do NOT want to miss this spot.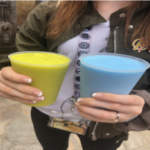 Blue and Green Bantam Milk is a plant based milk you saw Luke Skywalker drinking when we watched Star Wars: A New Hope. Black Spire Outpost has a spot where you get to try it too. We all tried both and there were mixed reviews on which one was the best. Some liked the Blue over the Green and visa versa. In the end, we feel the Blue Milk was sweeter and the Green Milk was more floral in flavor. Nonetheless, it was fun getting to share in the story we all grew up watching. ProTip: Use mobile ordering to skip the line and get your Bantam milk faster.
Character Interactions are different in this land than any other. While visiting, we watched storm troopers enlist a young clone to help patrol the First Order section of the outpost. Cast Members gave advice to one of our agent's children about becoming a Jedi when they were purchasing a "youngling braid." Kilo Ren walks the area looking for loyal followers while Chewbacca greets you in the Resistance section. You might even find characters you've never heard of hiding in the shadows waiting for a chance to rise against Kilo Ren. Disney has gone above and beyond in this aspect. Every character and cast member interaction feels organic. There are even special phrases used when speaking with guests. Pro Tip: Do your research before you visit and be ready for anything. Don't be shy and enjoy the interactions.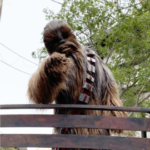 What we are looking forward to? We look forward to more time in Batuu. This awesome land will open in Walt Disney World on August 29th and Middle of the Magic Travel will be there on that day for the weeks that follow. We are looking forward to doing all the things we were not able to do while in Disneyland; from building droids, experiencing the ritual of creating our own lightsaber, and finally riding the much anticipated attraction, Rise of the Resistance (opening December 5th in WDW). In the end, we are most looking forward to becoming experts at navigating the Black Spire Outpost for you, our clients, so we can ensure your visit is a magical one.