Padawan learners, get ready to explore Black Spire Outpost on Batuu! Experience the thrill of meeting traders, adventurers and smugglers. But be on the lookout for the First Order as they will try to get you to give up the secret location of the Resistance.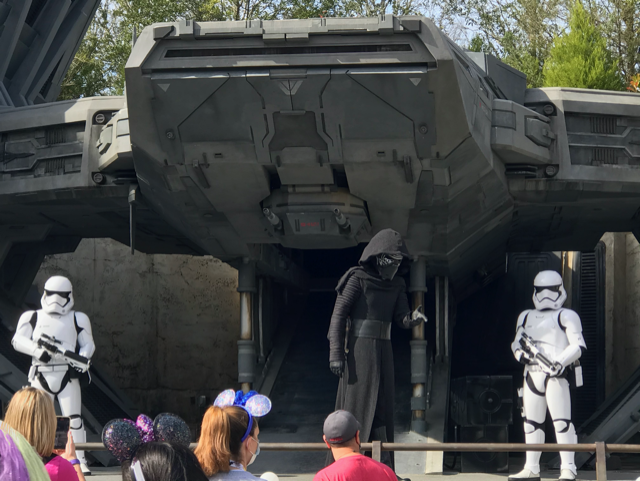 I know Star Wars fans, myself included, like to show off our cool attire. Please make sure you check with your Middle of the Magic Travel Planner about the most up to date policies. As of now, children 13 and younger are able to wear a full costume with a mask as long as it does not obstruct their view and their eyes can be seen. For the rest of us (14 and older), we are not able to wear costumes or costume masks that are meant to look exactly like the real characters, but that doesn't mean you can't be creative with your Star Wars outfit. I like styling my hair and wearing my favorite Star Wars t-shirt. Feel free to purchase a fun outfit at the Black Spire Outfitters and enjoy all the shops at the Black Spire Outpost.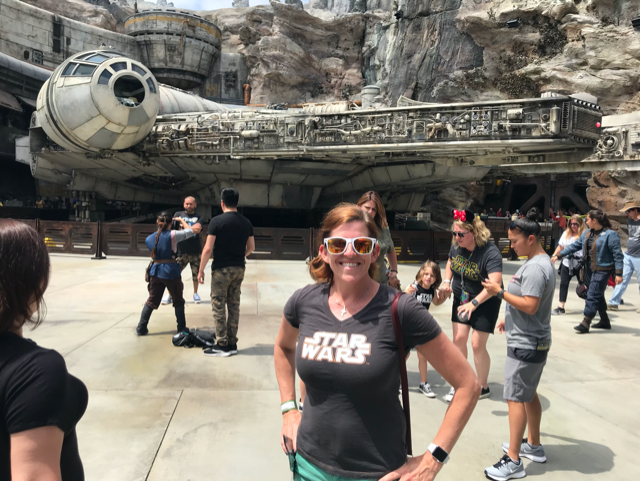 Now fighting the dark side can make you hungry!  Good thing there are two delicious spots to grab out-of-this world grub, Docking Bay 7 and Ronto Roasters.  If you need to cool off inside, head to Docking Bay 7.  My favorite meal is Batuuan beef pot roast.  If you are looking for a relaxing spot and views of Batuu, head to Ronto Roasters.  Their ronto wraps hit the spot and of course you can wash it down with a Coruscant Cooler.  Oga's Cantina might bring back bad memories of that one time at Mos Eisley, but don't let that stop you from enjoying a delicious beverage.  The Outer Rim will help get you back on the right path!  Of course there are small bites to enjoy at Oga's as well.  It is best to make reservations at Oga's as so many smugglers like to hide out here.  Make sure to let your Travel Planner know your plans, I promise we won't tell the First Order.  A fun spot to stop is the Milk Stand.  Make sure you try both the blue & green options to see which one you like best.  Parents, there are additional options of tequila or rum for you.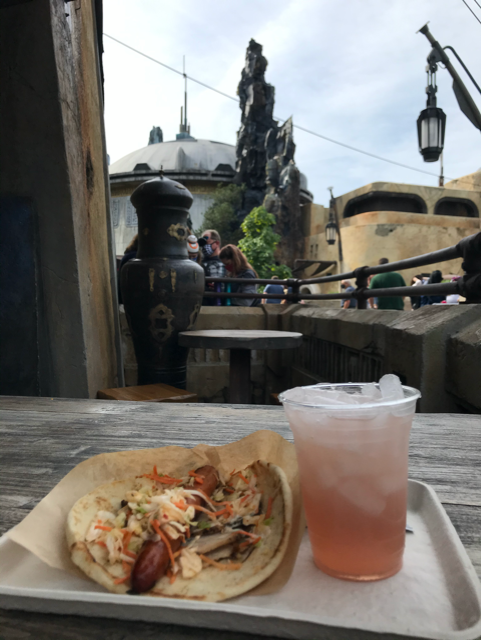 Of course most space travelers want to visit the two attractions, Millennium Falcon: Smugglers Run & Rise of the Resistance.  Are your kids always running around the house shouting "pew pew"?  Well, Smugglers Run will be a perfect fit (as long as they are at least 38 inches tall, of course).  You can be a pilot, gunner or engineer and help Hondo deliver his "hard to find" items.  Getting to ride on the Millennium Falcon – "the fastest hunk of junk in the galaxy" – is a thrill for all, especially for those who grew up on Star Wars.  This interactive flight simulator is fun and exciting, but those who are prone to motion sickness might want to close their eyes from time  to time or sit this one out.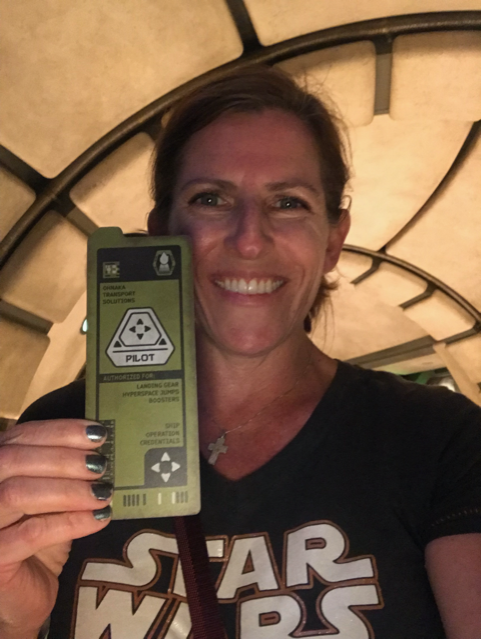 Rise of the Resistance is a trackless ride that brings you, the Resistance recruits, right into a battle between the Resistance and the First Order! Since this attraction is highly sought after you will need to join the virtual que. Your family will have two chances to get into the virtual que, one is at 7 am and the other is 1 pm. Have no fear, you are able to join the que even if you are not in Hollywood Studios at either hour! The following are helpful suggestions for getting in the que:
Wake up around 6:45 am EST on your Hollywood Studios Day. Log in to the Disney World App.
Consider being off Wi-Fi and on your own data (Disney Wi-Fi may be bogged down). You want to make sure you have a strong signal.
Click on the "Rise of the Resistance Request Access with Virtual Queue" section. You won't be able to join just yet.
Around 6:59 am start continuously refreshing the virtual queue screen until the "JOIN" button appears.
Then make those fingers go go go! Make sure all the members of your group who will be in the park that day are selected and click "next".
Then the screen will display what boarding group you are in. You are not guaranteed a boarding group. Even with the best laid out plans, glitches happen, technology crashes, etc. and you might not get a boarding group. Good luck!
Boarding groups will be full in a matter of seconds.
There is no way to know in advance what time your boarding group will be called (lots of factors go into play).
You will get a push notification on your phone when your boarding group is called. You can always check the status in the My Disney Experience app, too, to see what number groups are being called.
When your boarding group is called, you have a 1- hour time frame to go to Rise of the Resistance. If you do not make it to the ride within that time frame, you will not be able to ride. If you have a conflict, such as a dining reservation, talk to Cast Member for assistance.
There is a chance you could get a backup boarding group. Backup groups will only be called if all of the original boarding groups have been called for the day.
Follow these steps for 1 pm as well!
Are you looking for that perfect gift to bring back home from your space travel? Well, look no further than Savi's Workshop and the Droid Depot. Build your own custom lightsaber!!! You can choose from four cyber crystals (red, blue, green or violet) and pair it with one of four different hilt themes. The cost is $219.99 plus tax for travelers 5 and older. This experience takes about 20 minutes and you should arrive 15 minutes beforehand. Making reservations ahead of time is a must to guarantee your spot. If a custom droid is more your style, travelers 3 and older can build an astromech droid for $99.99 plus tax. Chose from a BB-series or R-series and pick your parts right off the conveyor belt! This is an amazing experience for kids and adults alike. Easy directions are given to put your droid together and then you will receive a remote control and active your personalized droid. Of course there are additional accessories you are able to purchase or you can choose from pre-made droids as well.
There are so many sights and activities to enjoy in Galaxy's Edge. Enjoy your time and take it all in. You might get to see some of your favorite characters and have a chance for a magic photo!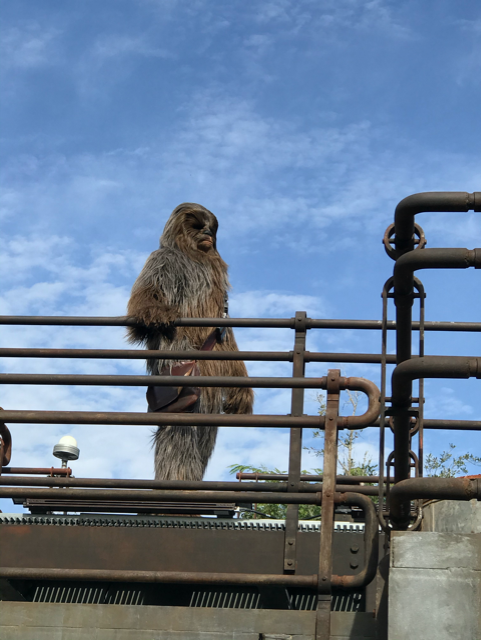 Ready to plan your visit to Star Wars: Galaxy's Edge? Let our travel planners help you make the most of your vacation! Use the form below to begin planning!
Request a Quote
Vacation Request Quote Form for Middle of the Magic Travel
About the Author
Nicole Hickey is a founding member of the Parent Panel. Her family loves all things Star Wars, and she loves experiencing Disney through the eyes of her daughters and son.