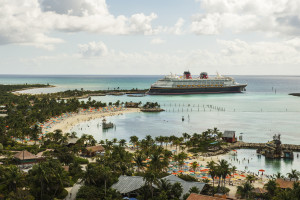 Disney Cruise Line's rates and itineraries are available through the end of 2017! Here are a few reasons right now is the best time to book and start planning your first (or next) cruise vacation.
Booking early helps you make the most of your budget and cruise options! You can take advantage of the best pricing and stateroom availability when cruise rates are first released. You also get first dibs on the main seating at dinner time rather than a later one.
You can choose your ideal stateroom location while booking your cruise. If you want to be near the pool deck or the Oceaneer Club, or in a central location midship, and especially if you're traveling with others you'd like to be close to: it's much easier to guarantee what you want when you book early.
Explore new destinations while "at home" with Disney. Let the Wonder, Magic, Dream or Fantasy be your home away from home. Relax in the comfort and familiarity of Disney, while you discover new favorite places and create lifelong memories with your family!
You might be even closer to the pixie dust than you think! If you live in convenient driving distance to one of the ports, your vacation begins even sooner! Disney Cruise Line ports include Port Canaveral, Miami, Galveston, San Diego, and New York City.
Land & Sea vacations are the best of both "Worlds." If you're visiting Disney World, adding a three-or-four night Bahamian cruise from Port Canaveral is a perfect complement. Let your imagination run wild in the theme parks and have a magical adventure at sea, in the same trip, with your favorite Disney pals.
Disney Cruise Line offers something for every member of the family! With themed areas dedicated to kids, tweens, teens and adults, and nightly Broadway-style shows, pools, slides, sports, a full-service spa and so much more, you'll find the perfect blend of down time and together time, and activities and leisure.
Contact us for more information, and to let our Silver, Gold and Platinum Castaway Club members personalize the details for you!