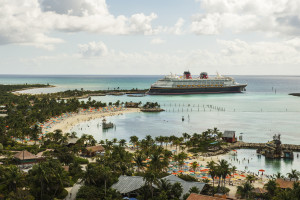 We've extended our
Small Business Saturday
special offer! Until December 31st, when you book a 4-7 Night Disney Cruise Line vacation, we'll give you a $50 onboard credit to kick off your adventure! While your
cruise fare
includes most of your dining, entertainment and more, here are some magical extras this bonus will get you at sea!
Brunch or dinner for one adult at Palo (an adults-only signature dining experience) and a 1-Day pass to the Rainforest Room (where you can relax on heated lounge chairs, enjoy steam rooms, saunas and aromatherapy showers and more)
 4 days of Pilates, yoga, or group cycling classes, so you can earn that amazing must-have meal at Palo
One hour of babysitting for two children under age three in It's a Small World Nursery, and a Rainforest pass for two adults
 A 300-MB WiFi package to post your amazing beach photos (or share your Disney character selfies) on Facebook, and enjoy a Drink of the Day (just because you can.)
 A 60-minute virtual golf package on the Sports Deck just to make sure you stay on top of your game while you're vacationing
 An hour to tour Disney's private island paradise via bicycle for a family of four. Enjoy more of the magical scenery and still have plenty of time to relax on the beach!
 A care-free day to "float" your cares away with inner tube rentals for a family of four on Castaway Cay
Snorkel equipment rentals for the day for one child and one adult on Castaway Cay
 One Wild Side Teen Adventure, a snorkel, bicycle and speedboat adventure around Disney's island paradise, for your 14-17 year-old on Castaway Cay
 A Ice Cream Manicure at Chill Spa for your 14-17-year old
 A Magical Manicure at Chill Spa for your daughter while you send your son for a 30-minute virtual sports experience virtual sports simulator includes soccer, baseball, basketball, hockey or football (or the Royal Knight Package at Bibbidi Bobbidi Boutique!)
A First Mate or Empress Package at Pirates League, an experience that's sure to add "character" to your Pirates Night experience.
For more information on a Disney Cruise Line vacation, contact your Middle of the Magic Travel Planner or request a quote now! We can't wait to help personalize the details for your family's next adventure.