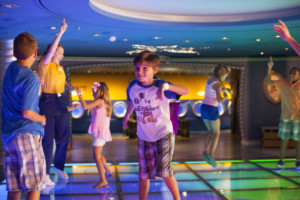 The Disney Fantasy is adding a few magical enhancements to its onboard entertainment starting this spring. Although it mostly mirrors the Disney Dream, each ship has a few of its own special activities and features. Here are the latest!
Coming soon to the Oceaneer Club on the Fantasy: kids can learn the ways of The Force at sea! At the Star Wars Command Post, they can visit the Millennium Falcon and Death star, and meet and train with their heroes in missions against The First Order. At the Marvel Super Hero Academy, also in the Oceaneer Club, kids can learn how to be superheroes from their favorite idols. Dr. Strange is also making his first onboard appearance there.
These new features are for kids ages 3-12, but Disney has other activities for teens and adults only to indulge in, too. Since the Oceaneer Club and Lab is included in your cruise fare, and it's open from morning until late at night, everyone has time to explore their own interests.
There's something for everyone at Sweet on You, a new ice-cream shop inspired by classic Mickey Mouse cartoon shorts. It's located near the family pool, where you can stop in to purchase gelato, ice cream, sundaes, chocolates, truffles, and candy.
If shopping is more magical than dessert, Tiffany & Co. will have its own exclusive store aboard the Fantasy, where guests can shop for jewelry and luxury accessories.
Experience it all starting May 17th, during a 3-Night Bahamian Cruise on the Fantasy, before the ship returns to alternating between 7-Night Eastern Caribbean and 7-Night Western Caribbean cruises.
Let us show you why you'll love a 7-night cruise, and help you discover experiences you didn't know Disney could offer! Contact your Middle of the Magic Travel Planner, or request a cruise quote now. We look forward to making your high-seas adventure extra magical. Also, ask us about our onboard credits when you book your Disney Cruise Line vacation with us.