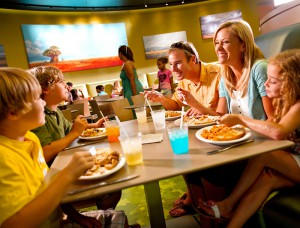 What's in the Disney Dining Plan for you? If you're wondering if you should use it during your next visit to Disney World, here are a few benefits you'll definitely want to consider!
More Inclusive Budget: Adding a dining plan means the cost of most meals and snacks is paid for with your vacation package. (Tips on Table-Service meals are not included.) That way, you're more likely to stick to your budget once you arrive. Plus, your dining plan credits are linked to your MagicBand, so you can just tap your band, enter your PIN code, and you're good to go for snacks and meals! You can also use your MagicBand to charge your tip (to a credit card you link ahead of time.)
Flexibility: With three plans to choose from (Quick-Service Dining Plan, Disney Dining Plan, Deluxe Dining Plan) you can match your family's eating habits with a plan that fits. Whether you prefer on-the-go meals, Signature dining experiences, or something in between, one of the plans is sure to fit your needs and interests. Most of our clients choose the basic Disney Dining Plan, which currently offers 1 Quick-Service, 1 Table-Service and 1 Snack credit per person per night, and 1 Resort-Refillable Drink Mug per person. You can also use these credits in any order on whichever days you want, between check-in and 11:59 PM on your check-out day.
Savings: When the dining plan is used correctly, you can save at least 15% versus paying as you go. That's where a good travel planner is a must! We will help you with restaurant selections to maximize your savings, schedule and experiences. Since our travel planners visit Disney World one to four times a year, and our agency is based ten minutes from Disney World, we have tons of dining expertise to share with you!
Value: When you pay as you go, you purchase each meal and snack separately at cost. When you use the dining plan, you're pre-paying a fixed price for dining credits, and then ordering from the menu as you wish. If a Table Service meal includes an entree, soft drink and dessert, depending on what you order, you're getting more for the same amount of money (and most of the time, you're spending less than what you would have out of pocket!) You really get to enjoy the best of each restaurant this way.
Character Dining: When you purchase the dining plan, you can use your Table-Service meal for character dining as well. The cost of one character dinner is around the same as the average per-night cost of the dining plan, but you still get the Quick-Service credit, snack and resort-refillable drink mug! We encourage our clients to book 180 days out for the best dining experiences. While a few character meals are Signature two-credit experiences, most of Disney's top character dining only uses 1 Table-Service credit! We encourage our clients to book 180 days out for the best dining experiences.
Resort-Refillable Drink Mug– This is a great perk with the dining plan. Guests ages 3 and over get a refillable mug for your resort food court. (Most resorts have refill stations at the pool, too!) This is a great way to cover your morning coffee (or pick-me-up) and soft drinks while you're relaxing in the room or lounging at the pool. It's convenient for coming and going too, especially if you have a stroller to stash the mugs in while you're away from your resort! The resort-refillable drink mug would cost about $16.99 per person for your length of stay if purchased separately, which for families, adds up!
Interested in more information? Contact a Middle of the Magic Travel Planner today, request a quote, or email us at [email protected].