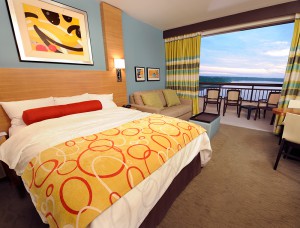 Disney World features a variety of amazing resorts, and many are destinations all by themselves. Choosing the one that fits your family's priorities and interests enhances your experience more than you might realize!
Because a resort is so much more than a place to sleep, here are 10 reasons to give your choice the consideration it deserves.
You spend lots of time at the parks, but you begin and end each day at your resort. Its proximity to the parks determines how much time you spend getting there (and back.) The farther away you are, the more travel time you have to factor in, especially when coming and going multiple times each day.
You know about the monorail resorts, but did you know you can take a water taxi from Port Orleans Resorts to Disney Springs? You can also take a water taxi from Wilderness Lodge to Magic Kingdom. Even better: you can walk from Beach Club to Epcot, or from Contemporary and Bay Lake Tower to Magic Kingdom! Less waiting=more time, and more fun!
Dining in Disney is part of the magic! If options are important, you'll want a resort that has a variety of Quick-Service and Table-Service options, and that's easily accessible to other resorts and dining options. Whether you want character experiences, casual dining, or signature dining, you'll make the most of your time and your dining plan.
TinkerBell sprinkles pixie dust at all of Disney's resorts, but each has a theme as individual as you and your family. The beach, an African savannah, and the outdoors are just a few of the places that influence Disney's resorts. You'll love the way the pools, main areas, and room designs, enhance the atmosphere down to the details!
Some resorts offer more recreation opportunities than others. On non-park days, arrival and departure days, or every afternoon, you can enjoy themed pools, thrilling water slides, and kids play areas. Water craft rentals, boat and bike rentals, fishing, archery, and horseback riding are just a handful of ways to enjoy a Disney day!
Moderate and Deluxe Resorts have queen beds instead of doubles, and you'll have more space to  prepare and wind down from each day. Being well rested and having a little personal space makes your vacation a lot more magical. Families of five will also find a variety of options to accommodate them with two queen beds plus a day bed.
Low-key evenings are never boring in Disney World! Many resorts offer nightly family fun like "Movies Under the Stars" and campfire sing-a-longs. Some are in walking or water taxi distance to Disney's Boardwalk and Disney Springs, which offer a variety of dining, shopping, and nighttime entertainment.
Your kids might fall asleep early, but you don't have to be "stuck" in the room. Disney World's monorail resorts each offer theme park view rooms, which offer incredible views day and night (including Wishes and the Electrical Water Pageant on Seven Seas Lagoon.)  If you don't opt for a room with a view, there are plenty of public spots to enjoy as well.
Adults will find their own world of magic at Disney's spas and fitness centers. Many Deluxe Resorts, including Grand Floridian and Yacht & Beach Club have full spas with hair, nails and massage services and more! Saratoga Springs has a spa, along with the best fitness center on property.
Above all, a vacation should feel like a vacation! Escape from the real world for a little while, and immerse yourself in imagination, fantasy, and a change of scenery. Bringing your favorite people and places together, and letting the rest of the world fall away, is a guarantee you'll make memories for a lifetime.
Share your vacation dreams with us, and we'll match you up with the perfect resort and vacation package! Contact your favorite Middle of the Magic Travel Planner, or request a quote now.