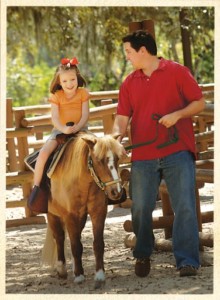 When we say Disney World resorts can be destinations in themselves, Fort Wilderness is a perfect example. Even if you're not camping or staying at The Cabins, Fort Wilderness is a perfect place for nature and animal lovers to spend a Disney day! Here are some experiences to consider for your next vacation.
Wilderness Back Trail Adventure: Have your own "wildest ride in the wilderness!" Guests ages 16 and older can take a Segway tour that explores scenic paths and trails, with stops at Wilderness Lodge, Tri-Circle D Ranch (details next!) and Bay Lake. With a how-to lesson and tons to explore, you'll earn about the landscape and enjoy trivia and stories from your guide along this experience.
Tri-Circle D Ranch: It's the perfect place for your first (or next) horseback ride! Guests ages 9 and older can ride through beginner or intermediate trails, and little ones will enjoy petite pony rides. Guests of all ages will love visiting the stables, Cinderella's Ponies, and the horses of Main Street, U.S.A. (among others.) Horse-drawn wagon rides and carriage rides are also a fun family (or adults-only) activity.
Fort Wilderness Archery Experience: Guests ages 7 and older can learn how to use a compound bow and get some target practice! Each class is limited to ten people, so each participant receives personalized attention, advice, and hands-on experience.
Mickey's Backyard Barbecue: Party with an all-you-can-eat barbecue, a live country western band, and dancing led by your favorite Disney pals (Mickey, Minnie, Goofy, Chip and Dale.) Dinner includes favorites like ribs, smoked chicken, hamburgers, hot dogs, corn on the cob, macaroni and cheese, and more. Soft drinks (plus beer and wine for guests age 21 and over) are included, too. Advance reservations are a must.
Hoop de doo Revue: This lively stage show is full of comedy, dancing, singing, and family fun! All-you-care-to-enjoy dinner includes fried chicken and smoked BBQ pork ribs, tossed green salad, baked beans, cornbread, and strawberry shortcake and soft drinks. Soft drinks (plus draft beer, wine, and sangria for guests age 21 and over) are included too. Advance reservations are a must.
Chip' n' Dale's Campfire Singalong: Roast marshmallows and enjoy a singalong and meet-and-greet (and great photo opportunists) with Chip and Dale! You can bring your own marshmallows and sticks, but if you're just stopping by, you can purchase a S'mores kit at the snack bar. Afterward, stick around for Movies Under the Stars. No reservations needed, and this activity is complimentary to Disney World resort guests!
Other fun activities you can enjoy while you visit Fort Wilderness: canoe and kayak rentals, fishing, and an onsite food truck offering sandwiches, burgers, salads and moonshine cocktails. (This is also where you'll find the S'mores kit.)
Contact your Middle of the Magic Travel Planner for more information about availability (and pricing and reservations, if applicable) for these activities and more. Or, request a quote now! We look forward to helping you set the stage for your family memories, the most magical experience of all.