Since 2015 our family has been spending our February school vacation at Walt Disney World. There is a lot to love about Florida in February. The temps are usually mild, the parks are starting to bud and open the first spring blooms, and for us, we escape the snow for a bit. We are big fans of a Walt Disney World vacation. We enjoy a week "in the bubble" as many say. We take Magical Express, we buy the dining plan, and we stay at a Disney resort. It feels like a full experience. However, this past February, our daughter turned eight and has developed a very strong interest in the Harry Potter books and the movies. We figured, after 5 years of Walt Disney World in February, it might be time to visit "that other park".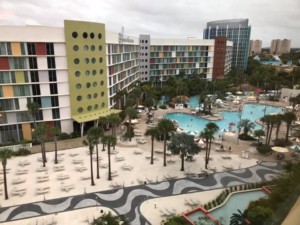 We were spending three nights at the Universal Orlando Resort. The first thing to do was to plan our resort. I wanted to balance budget and functionality. One difference between Walt Disney World and Universal Orlando is the FastPass system. Staying at any Disney resort gives you the ability to book FastPasses 60 days in advance. At Universal, they call the system "Express Pass" and those are only complimentary with certain resort stays. Staying at Loews Royal Pacific, Hard Rock Hotel, or Loews Portofino Bay will qualify you for this perk; the other Universal hotels do not. For our family, I went with a mix. We spent two nights at Cabana Bay Resort. This hotel is budget friendly, family friendly, and has a great pool area. The remaining night we stayed at Portofino Bay. We got a great rate because of some renovations happening at the resort and it allowed us to have the complementary "Unlimited Express Pass" for our check-in day and check-out day. This gave us express passes for two of our three park days.
The next step was thinking about dining and park touring. At Universal, there is a lot less to plan in advance. Dining reservations can only be made at certain restaurants and with Express Pass, you do not need to plan your attraction times in advance. The restaurants we were most interested in did not take advance reservations and we were also interested in trying the limited-time Mardi Gras food offerings, which is festival style. So, we decided to do something we really can't do at Disney. We figured, we'll just show up, and wing it!
It turned out that "show up and wing it" was my very favorite part of the trip. Here are the top reasons that all theme park fans need to visit the Universal Resort in Orlando:
1. Immersive theming! Disney is great about theming and making you feel immersed in the parks. Universal did not disappoint there! Especially in both of the Harry Potter lands. Want to talk about walking into a movie? Every detail is fully themed. My little Harry Potter fan was over the moon. The theming extended to the resorts we stayed in too, just like at Walt Disney World.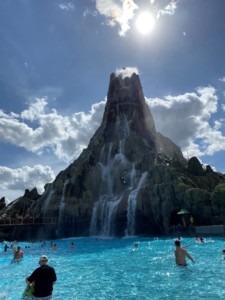 2. Volcano Bay. This waterpark was the cleanest and most fun waterpark I've ever visited. I loved the Tapu Tapu band (can you say Magic Band?) which they give you at entry. You use it to "wait in line" virtually for the slides. No burning feet while climbing stairs in a queue. They call you back when it's your turn. Very family friendly.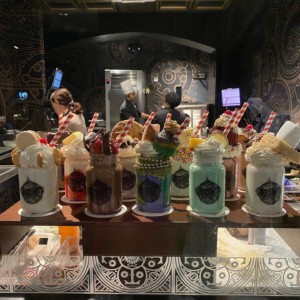 3. City Walk. The restaurants at City Walk are great. We visited Cowfish for great casual surf and turf. Toothsome for sharable, over-the-top milkshake treats (pictured above). We also visited Voodoo Doughnuts and Starbucks a few times for breakfast on the way to the park gates.
4. Transportation. The campus is smaller than the Walt Disney World resort. This makes it a lot easier to get around quickly. We enjoyed the ease of getting to and from our resort.
5. Spontaneity! Universal's Express Pass allowed us to ride what we want when we wanted (for the most part). All the restaurants we were interested in were easily available for walk-ups.
Overall, going to Universal didn't "scratch the Disney itch", but it created a whole new set of favorites for our family. I think we will be making a Universal trip annually as part of our vacation plans for the future. If you're interested in planning a trip to Universal for your family, click here to reach out to Middle of the Magic Travel and we will get you in touch with one of our Universal specialists!