Topolino's Terrace – Flavors of the Riviera: Character Breakfast Review
Written by: Hillary Gelinas, Senior Travel Planner
Are you looking for a fun Disney Character Dining Experience? Look no further than Topolino's Terrace, located on the rooftop of Disney's Riviera Resort. Mickey, Minnie, Donald & Daisy greet you right at your table, dressed as aspiring artists, too cute!
The cost of this Character Breakfast is $45 per adult and $29 per child (3-9). You get a cute bowl of pastries, I loved the variety of muffins, while my 1-year-old loved the Apple Danish offering.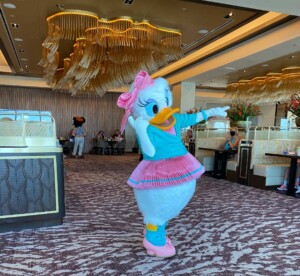 This meal has a small menu to choose from, but each item cannot be beat!! Last visit, I ate the "Two Eggs Any Style", this entree comes with Roasted Potatoes, Bacon, Ham, Sausage or plant-based sausage. My husband had the Wood-fired Steak, it came with polenta and roasted veggies. The steak cut like butter and the polenta and veggies tasted excellent! My 1-year-old daughter had the Mickey & Minnie Waffle dippers. The waffles are on a stick, easy for kiddos to dip in the syrup and jellies!
The atmosphere of this restaurant is so upbeat and every time the characters danced around and greeted the guests, fun French and Italian inspired music played. This got everyone excited and dancing! My daughter would clap so happily when she saw the characters come around, it melted my heart.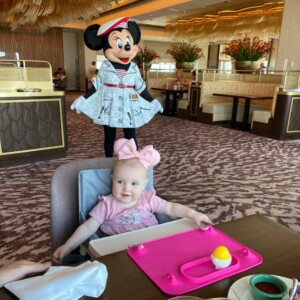 Before leaving the restaurant make sure to check out the terrace lounge area outside! It has beautiful views of the neighboring resort, Caribbean Beach Resort, the Skyliner Gondolas and even can see Epcot from there!
Overall, my family enjoyed our meal and getting to say hello to all our favorite characters was just the cherry on top!
Contact us today for your Free quote!