Written By: Bridget Virden, Senior Travel Planner
I know that for most people, Be Our Guest or Cinderella's Royal Table are at the top of their dining wish list for Magic Kingdom. And while I agree that both of those restaurants are delicious and offer a one-of-a-kind experience, the restaurant that I book every time I'm at Magic Kingdom is Jungle Navigation Co. LTD Skipper Canteen. Located in Adventureland and inspired by the Jungle Cruise attraction, Skipper Canteen offers a unique dining experience with its jungle-inspired decor, corny jokes, and Asian-fusion menu.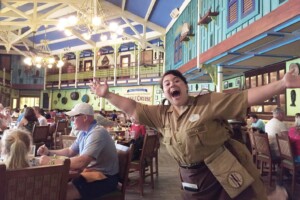 There are three themed dining rooms at Skipper Canteen – the crew Mess Hall, the Jungle Room, and the S.E.A. room (a secret meeting place for the Society of Explorers and Adventurers). No matter where you are seated, you'll want to spend some time looking at the "artifacts" that decorate the spaces. Jungle Cruise "skippers" double as wait staff so expect to hear some cheesy jokes throughout your meal. One that we heard as we were shown to our table…"Let me point out some of the highlights of our restaurant. (Motioning overhead.) There's one. There's another one. That one's really high." (Insert groan here!)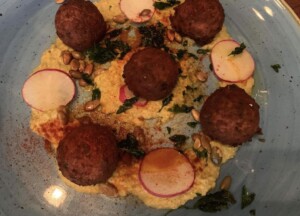 The menu is definitely not what you would expect to find at a theme park! If you want something other than hamburgers and fries, Skipper Canteen has you covered! Dan Dan noodles, lamb chops, and sustainable fish are just a few of the entrees on the menu. And while every entree we've ordered has been delicious, our family prefers to order a variety of appetizers to share at the table as our meal. My favorite? Definitely the cachapas! These are house-made corn pancakes topped with braised pork, roasted corn, fresno pepper salsa and avocado cream. I also recommend the falafel and the "secret menu" cheese bread. You won't find the cheese bread listed on the menu, so ask your server about ordering if she doesn't mention it. Definitely save room for dessert – the coconut bar with pineapple-basil compote and vanilla cream is my pick, but Kungaloosh! gets high marks from our family, as well. You can't go wrong with chocolate cake, and this version has been kicked up a notch with caramelized bananas, cashew-caramel ice cream, and a sprinkling of coffee dust.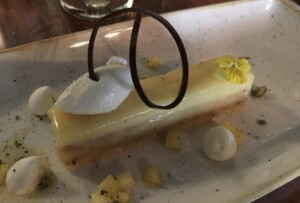 Overall, Skipper Canteen is an excellent dining option for your Magic Kingdom day. The food is delicious, the atmosphere is light-hearted and fun, and the service is excellent. Don't let the adventurous menu keep you away – there really is something for everyone! I would definitely recommend it to anyone looking for a dining experience off the beaten path.