Written by: Bridget Virden, Senior Travel Planner 
With so many amazing restaurants to choose from at Walt Disney World, it can be easy to overlook options outside of the parks, but dining at resorts is one of our favorite things to do! Not only do you get to try new restaurants, you have the chance to explore other resorts!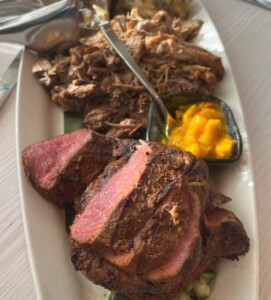 Our family decided to try out Sebastian's Bistro at Disney's Caribbean Beach Resort on our most recent vacation. Since it's situated along the Skyliner route, Caribbean Beach is a "breeze" to get to, and the brightly-colored buildings and tropical foliage made us feel like we had been transported to an island paradise!
Sebastian's Bistro offers a Caribbean-inspired, family-style menu, which means all dishes are brought to your table to be shared. While it's not technically an "all-you-can-eat" meal, our server did let us know we could ask for more of any of the dishes.
Our meal started off with buttery, house-baked pull apart rolls served with guava butter and caramelized onion jam. This was a huge hit at our table! We all loved the combination of the guava butter and onion jam. The Spice Necklace salad was light and refreshing – not too sweet even with the fruit and key lime dressing.
Next up – the main course! Taste of the Caribbean included a selection of meats – oven roasted citrus chicken, slow-cooked mojo pork with mango sambal, and grilled flank steak with mojito relish. There was definitely something for everyone, but our group thought the slow-cooked pork was the most delicious! The meats were accompanied by a trio of sides, cilantro rice and beans, vegetable curry, and grilled broccolini. All three were good!
And of course, we saved room for house-made coconut-bread pudding with caramel sauce and vanilla ice cream. This was delicious – maybe even better than 'Ohana!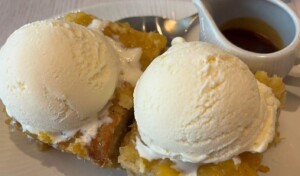 Not only did we think the food was delicious, we thought the price of $29 per adult and $17 per child (plus tax and gratuity) was very reasonable. I would definitely recommend a meal here, especially if you are already staying at Caribbean Beach or another resort with Skyliner access.
When you book with Middle of the Magic we're happy to offer (and book!) dining recommendations that are off the beaten path. You just might find your new favorite restaurant.