Written by: Melissa Zimmer
We recently spent a week at Disney's Saratoga Springs – which is a deluxe villa resort at Walt Disney World. We really enjoyed our stay at this resort as it truly feels like a home away from home.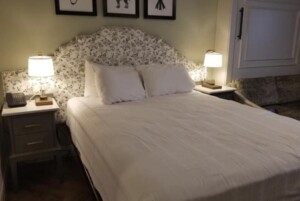 Our room was a 2-bedroom villa, which came with a full kitchen, two bathrooms, a washer and dryer and 2 bedrooms. This room was very comfortable for our family of 5, and easily could have accommodated more guests. The rooms at Saratoga Springs have all recently been renovated and we loved the fresh feel of the rooms – and adorable Mickey décor that accompanied the renovation.
We stayed in The Paddock area, which was a good location as it was right near an amazing pool. This pool was fantastic, with a water slide that kept our kids happy and a great spot for food and drinks. We spent an entire afternoon there and everyone in our family was totally happy to do so.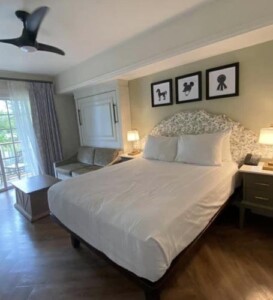 One thing to keep in mind if you decide to stay at Saratoga Springs is the fact this is a larger resort. We didn't mind this at all, but for some this may influence whether you enjoy the property. We enjoyed morning walks to grab coffee and thought the resort was truly beautiful.
If anyone in your party is a golfer, the Lake Buena Vista golf course is conveniently located right across the street. I think this is a great "day off" activity! The course also offers lessons for guests ages 5 and up.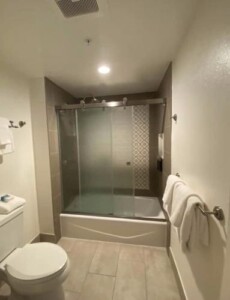 Food at Saratoga Springs was also very good – in fact it's one of our favorite quick serves at any Disney resort. The Artist's Palette is the main quick serve located in the main building. This serves breakfast, lunch and dinner. This location also tends to have lots of cute seasonal treats – we tried the Peppermint Bark they offered for the holiday season and it was delicious!
Overall we really enjoyed our stay at Disney's Saratoga Springs. I think this is a great option for larger parties that want to stay together in one room, those looking for a more relaxed home base and those that enjoy morning walks!
Contact us for your free quote!