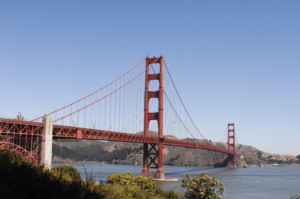 One of the best things about Disney is finding magic in unexpected ways. This is exactly what makes long-weekends with Adventures by Disney so memorable! These VIP tours encompass the "character" you love and expect from Disney, and the charm of each destination beyond popular tourist sites.
Middle of the Magic Travel had the opportunity to experience part of Adventures by Disney's San Francisco long weekend this month! Here are a few of the highlights, and why THIS is how you want to explore the country and the world.
A guided tour (and time to explore) at the Walt Disney Family Museum was an incredible inside look at Walt Disney's life, and how his family relationships influenced and inspired his career. A stop at Lucasfilm is sure to leave fans star-struck while exploring movie memorabilia and props, and enjoying the parking-lot-turned-park with gorgeous landscape and views of the nearby Palace of Fine Arts.
When a bike ride by The Golden Gate Bridge was interrupted by rain and 30 mile-per-hour headwinds, our Adventure Guides arranged for some time to explore on foot. Even in cloudy skies, the panoramic views and photo opportunities were breathtaking, as were the views from closer to the bike trail, where we stopped to shop and sight-see. The Adventure Guides called ahead and surprised us with hot chocolate while we enjoyed the view!
Travel with Disney means you're ready for anything. In between destinations, guests can charge up their electronics, relax, and enjoy stories from the Adventure Guides that make travels more fun and personal. Playing "car" games like "Guess that Disney Song," and earning points (and Ghiradelli's chocolate) made passing time in transit part of the fun! Water bottles, snacks, and treats are offered frequently, and help keep everyone at their best.
Adventures by Disney epitomizes Disney's family values. Touring with other travelers (in an intimate, organized setting) adds new perspective to each experience, and is often the start of livelong connection and friendships. The Adventure Guides take care of individual needs while coordinating with the group, creating experiences, magical moments, and photo opportunities that each will never forget. Even after a short time, you can't help feeling a little sad to say goodbye!
Two Adventure Guides bring the magic of each and every itinerary to life. Adventure Guides coordinate travel details and bring people together, within the group and at every stop. They're travel experts with local connections, which allows guests to explore more like insiders than tourists. Adventure Guides are also storytellers, who know each destination's history, coupled with their own–and how sharing a special place in time with others creates memories of a lifetime.
For more information on Adventures by Disney's other long-weekend itineraries or other North American itineraries, contact us today! You can enjoy immersive experiences and VIP guided tours all around the world (and on river cruises, one of the most popular new itinerary options.) We'd love to help you see the world in ways only Disney can show you!