Written by: Bridget Virden, Senior Travel Planner
No one likes waiting in lines – and especially not on vacation! And while you likely know about Genie+, Lightning Lanes, and how those features can shorten your time in line for attractions, you may not have heard about Disney's Merchandise Mobile Checkout!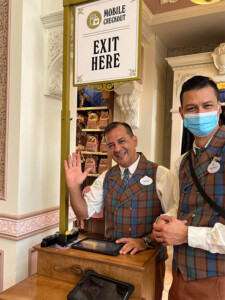 Disney's Merchandise Mobile Checkout is a service that allows guests at Disney theme parks to purchase merchandise using their mobile devices and avoid waiting in traditional checkout lines. With this feature, you can browse and purchase items from select merchandise locations throughout the park using the official Disney Parks mobile app. Once you have made your selections, you'll proceed to a designated mobile checkout location where a Cast Member will scan a QR code and complete the purchase.
So how exactly does it work? As you're shopping in one of the select locations you simply open the My Disney Experience app (or Disneyland app if you're on the west coast!) and click on the Merchandise Mobile Checkout tile on your screen. Once there, you'll be able to select the store where you're shopping.
The following stores offer Merchandise Mobile Checkout:
Magic Kingdom:
-Emporium
EPCOT:
-Creations Shop and Treasures of Xandar
Hollywood Studios:
-Dok-Ondar's Den of Antiquities
-Mickey's of Hollywood
Animal Kingdom:
-Discovery Trading Company
– Riverside Depot and Island Mercantile
Disney Springs:
-Super Hero Headquarters
-World of Disney
Disneyland Park:
-Disney Clothiers, Ltd.; China Closet and Plaza Point
-Dok-Ondar's Den of Antiquities
-Emporium
-Little Green Men Store Command
-Pioneer Mercantile & Bonanza Outfitters
-The Star Trader
Disney California Adventure:
-Elias & Co.
-Knick's Knacks
-Super Store featuring Avenger's Campus
-WEB Suppliers
Downtown Disney District:
-Star Wars Trading Post
-World of Disney
Once you've found the perfect souvenir, you'll scan the barcode with your phone. There's even a tutorial if you're not quite sure what to do. Items scanned will display in your "shopping bag" just like when you make online purchases. Continue scanning items until you're ready to checkout, then click the Check Out button. If you're eligible for any discounts (like a passholder discount) those will be automatically applied to your shopping bag.
After you've entered your credit card information and completed your transaction, your screen will display a QR code and confirmation ID to show to a Cast Member before you exit. Look for the Mobile Checkout icon and "Exit Here" sign. You'll be able to bag your items if you wish, remove any security sensors if needed, and show your code to check out.
Merchandise Mobile Checkout is so easy to use and you'll feel like a Disney insider breezing past all those people waiting in line. Be sure to check it out next time you're in the parks! Just one of the many tips your Middle of the Magic planner will share to help minimize your time in line and maximize the fun!