By,  Melissa Zimmer 
Disney's Contemporary Resort has been a Walt Disney World icon since the park opened! Over the hotels 50 year history, this resort has been on many Disney fan's must-stay list for its unique location just a stone's throw from Magic Kingdom and it's many onsite amenities.
The resort debuted a new room theme for guest rooms inside the iconic A-Frame building featuring The Incredibles. I recently stayed in this room with my family of five and was incredibly impressed!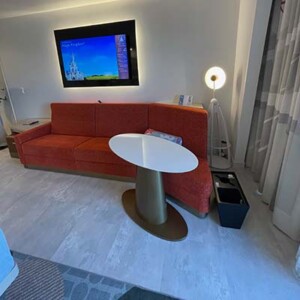 First, if you want a themed Disney room – this is a GREAT spot. The room from top-to-bottom has amazing Incredibles touches. My kids loved the Super Suits in the closet, and Jack-Jack in the bathroom. When you pulled out the nightstand drawer, there was also Incredible touches. Disney really did a great job with this, and these rooms do not feel bland or stale as some of the re-imagined rooms can feel.
It is important to note, if you want an Incredibles Theme Room be sure to let your Middle of the Magic Agent know. Rooms in the Main Tower are Incredibles theme and select Garden View Rooms are as well.
I think this room would be great for families of no more than four people. We felt a little squished in a single room as a family of five, so if you are a larger group looking into connecting rooms is a great option to add a bit more space!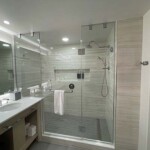 Another huge perk of the Contemporary is that this location is un-matched! Featuring a walking path right to the Magic Kingdom and the iconic Monorail with a station inside the main building it simply cannot get any closer to the magic. There are also wonderful dining options located onsite – Chef Mickey's (a highly popular character meal), Steakhouse 71 and California Grill are the table service options.
We loved the pool at the Contemporary – which featured a water play area for little ones and a very fun slide. My kids visited the pool daily during our trip and loved the poolside activities such as Disney Trivia, Dance Party and Charades – it was a LOT of fun. Next time we'll reserve a cabana for our pool day to maximize convenience, shade and bottled water!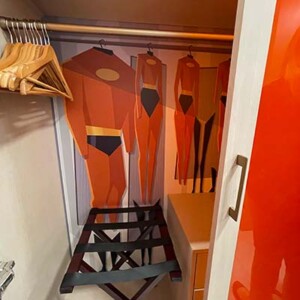 Our overall rating of the room was a solid A – we will definitely return! The Disney Magic is flowing at this resort and the amenities, shops, and restaurants are sure to help create the most magical stay during your Disney vacation!