Our agent Cristen recently visited both Walt Disney World and Universal Orlando Resort. While she was there, enjoying the low crowds and all the new safety precautions, she tried out several types of masks. Here are her reviews:
I had the pleasure of spending two weeks at Disney World and Universal this July. While visiting I tried different types of masks that met the Face Covering guidelines of both companies. During my time visiting, Disney updated their guidelines to include NO face coverings containing valves, mesh material or holes of any kind are not acceptable face coverings. Disney also added that you may remove your face covering while actively eating or drinking, but you should be stationary and maintain appropriate physical distancing.
The type of mask you wear is 100% a personal choice. If you wear glasses, you might prefer a mask with a wire nose piece to mold to your face to help with fogging. Some days and times were steamier than others. During these hot times, I preferred the disposable paper mask. However, the paper mask rubbed under my eyes, so I folded the corners down. At other times and days, I did great with a homemade two-layer cotton mask. The mask made of T-shirt material was comfortable, but it muffled my speech and was hot. During the steamier times I would hang a small rechargeable fan around my neck. The fan helps a lot. If I did not have my battery fan, I would use a foldable hand fan.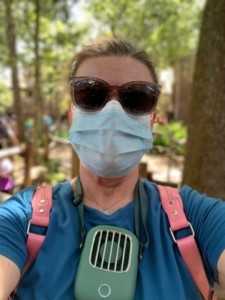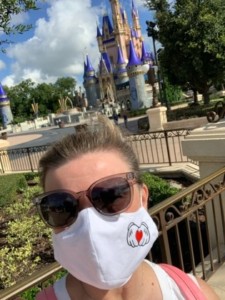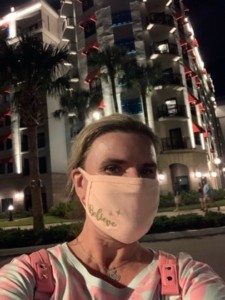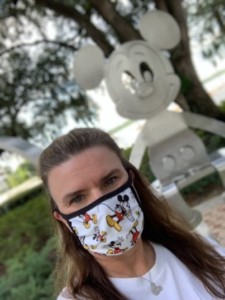 No matter what mask you wear, remember there will be times you will be wearing 3D glasses for select attractions. To help with fogging, place the glasses over your mask.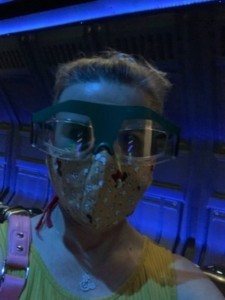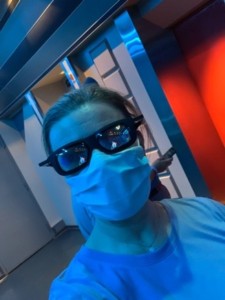 I carried an extra cotton mask and 2 paper masks with me in my day bag. If the mask got wet or I sneezed, I could replace it. It is a great idea to take a small Ziplock bag to place your mask in to keep it clean and dry.
Universal Studios Orlando
If you plan to ride Hagrids Motorbike or other roller coasters like Hulk or Rip Ride Rockit, I would suggest a tie mask. We added a slip toggle to our mask straps to allow for easy on. When I rode with an ear loop mask only, it would continue to slide down during the ride. I could have easily lost my mask. One of the restaurants we dined at gave us bags to put are masks in while we ate. This was very nice.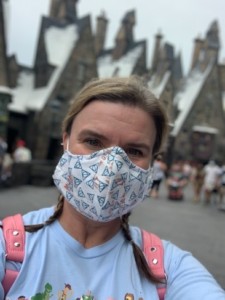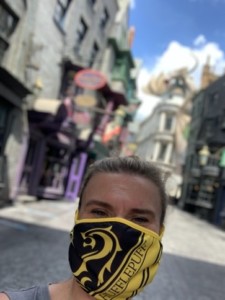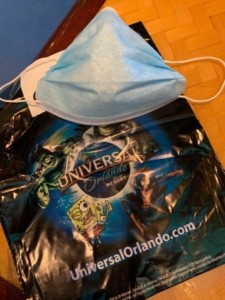 Mask Sizing, Comfort and Washing
I machine wash my masks and air dry them. I bought a size large in both Disney and Universal masks. The Disney masks do pull on my ears a bit, but the mask itself is comfortable. The masks that Universal sells are very comfortable. The two masks are designed differently, as you can see from the photograph. Both Disney and Universal masks can however become warm in the Florida summers. These masks will be great in all other seasons.
The Disney masks still shrunk even with air drying. Because these masks run small, the large is difficult to find in some designs. Disney is starting to release an extra-large size mask. I did not see any shrinkage from the Universal mask with my washing and air drying.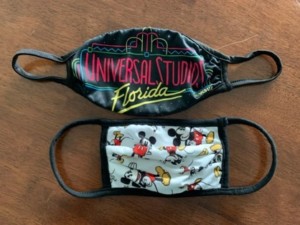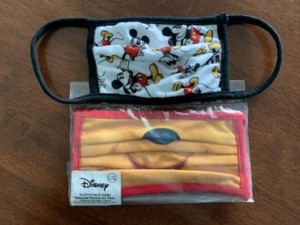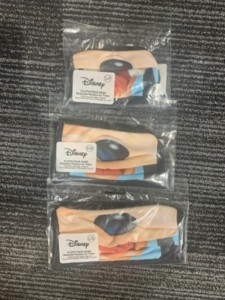 Wearing a mask was not as difficult as I thought it was going to be. After a while you just get used to it. Make sure you take breaks. Both resorts offer rest areas where you can physically distance and sit and remove your masks. It is a good idea to take a snack and refreshment with you to hydrate during this time.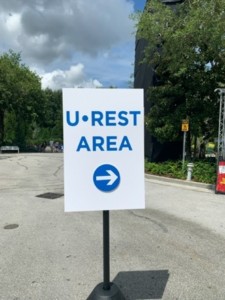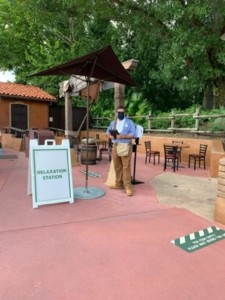 For more information, or to begin planning your next magical vacation, use the form below to contact a Middle of the Magic Travel Planner!