Taking your kids to Walt Disney World soon? You know the kids are all about the pools! Here's our top 5 choices! Just keep swimming!
Stormalong Bay – Not a big surprise, this is our number one pick for pools! With a sand bottom, lazy river and a sunken ship waterslide, who wouldn't want to stay at this resort! This pool is shared by Disney's Yacht and Beach Club Resorts. Stormalong Bay pool complex is 3 acres in size with sand bottom pool and sand play area, plus a lazy river, this pool is simply the best of the best! It also has a 230-foot 'shipwrecked' water slide. Cabana rentals are also available, for the day or half-day. If a Deluxe Resort is in your budget, this could be your next Walt Disney World vacation spot!
The Lava Pool – Polynesian Village Resort is one of our favorites! We love to look out at the Polynesian Beach and see the castle in the background! The Lava Pool features a giant volcano and a waterfall. There is a fun kids area- Kiki Tiki's Splash Play Area, and a 142-foot water slide at this zero-entry pool. Grab a tropical drink and spend the afternoon with your 'ohana!
The Big Blue Pool at Disney's Art of Animation Resort is great for kids and adults alike! Surrounded by life-sized icons of your favorite Nemo characters, this pool is like walking into the movie. We loved their pool games at this resort. For the little ones, Schoolyard Sprayground has familiar faces from Finding Nemo, while Squirt's Righteous Reef is a Nemo-themed playground perfect for kids who are more land lovers. We also want to give an honorable mention to the Cozy Cone pool in the Cars area of the resort. The Little Mermaid Standard Rooms round out this incredible Value Resort, and make this a great deal for your next vacation!
The Dig Site at Coronado Springs Resort, which also has a playground and arcade. The area has a 46-foot tall Mayan stepped pyramid and has a 128-foot water slide. This is a kids' dream come true! The water slide empties into one of the largest pools at Walt Disney World, called the Lost City of Cibola Feature Pool. Grab a refreshing drink and the afternoon is all yours at this amazing pool! This resort has a Deluxe feel pool at a Moderate price!
Rivera Pool at Riviera Resort- Walt Disney World's newest resort has one of the best pools on Disney property. The Mediterranean-themed pools are family-friendly and feature a pool slide that winds around a column tower. The little ones have their own S'il Vous Play, an interactive water play area inspired by the grand public fountains of Europe. One cool feature is a ballet of friendly Fantasia characters. This is a Deluxe Resort, but if it's in your budget, I'd highly recommend it!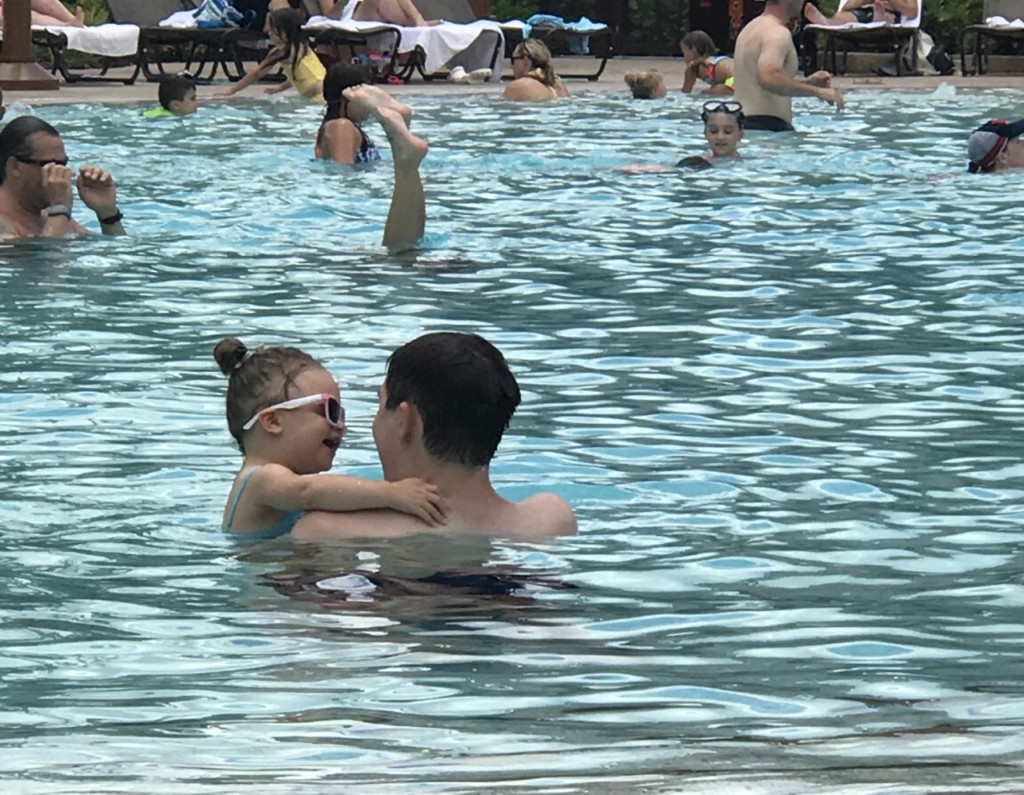 No matter what resort you choose, each one has amazing themed pools and there's something special at each one waiting for your family to explore! And if you'd like to splash your cares away this summer, Walt Disney World is offering up to 25% off select rooms, through September 29, 2021! If you'd like help from the family vacation experts at Middle of the Magic Travel, use the form below, and let's start planning your summer getaway!
Request a Quote
Vacation Request Quote Form for Middle of the Magic Travel
About the Author
Traci Elswick is the agency owner of Middle of the Magic Travel, a founding member of the Parent Panel, and TA to the stars! She has 5 children, ages adult down to two-years-old- so she has LOTS of experience, and she can't wait to share it with you!