Recently, I gifted my mom with a trip to Walt Disney World to celebrate her birthday. Just us girls. We had the best time visiting different resorts (it was November, so Christmas decorations were in full force), strolling through a few of the parks, and of course indulging in some fantastic meals.
My favorite meal of the weekend was at Kona Cafe located in Disney's Polynesian Resort. This is my mom's favorite resort, and while I would have really enjoyed staying there (we stayed at Port Orleans Riverside), it wasn't quite in the budget for this trip! So, instead, I got us a reservation for breakfast at Kona Cafe.
I should preface this review with the fact that I have to eat Gluten Free. This sometimes poses a challenge, or at the very least means that sometimes I am forced to eat very boring meals (hello eggs for breakfast, salads for lunch, and fruit plates for dessert), but to my complete delight, breakfast that morning was quite possibly the best meal I've had at Walt Disney World (pre AND post Gluten Free)!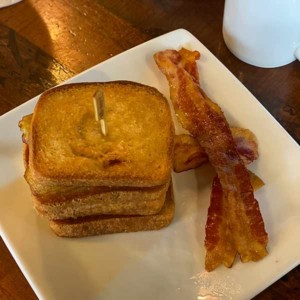 For those that deal with food allergies (I'm also allergic to pecans and raspberries), I cannot stress enough how important it is to notify staff of your allergy. From the hostess, to your waitstaff, be sure to speak up. Almost every restaurant at Disney destinations offers allergy menus, but they also offer you the chance to speak to the chef. And speaking to the chef made all the difference for my meal that day.
Chef Lorraine came out and asked me "If you could have anything on the menu, what would you want?" To be honest, I was a little shocked she asked. So, I decided to shoot for the stars and asked if I could have Tonga Toast (Kona Cafe is famous for this). To my delight, she said "ABSOLUTELY!"
Y'all. It was amazing. Now, it wasn't quite like the real Tonga Toast they serve, but I'm not going to lie, I've had both and I preferred the GF version. She modified it with slices of GF toast, layered between long slices of caramelized bananas and served with a side of strawberry sauce to add on top. She called it "neapolitan style" and I ate every last bite!
I'm including some mouthwatering pictures, because this meal was totally Instagram post worthy. I cannot recommend Kona Cafe enough for breakfast whether you need to eat GF or can enjoy all the gluten you want! It is a meal worth enjoying down to the last lick of the plate (because you will want to do that, I promise)!