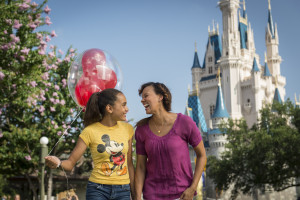 The magic is in the details, and we can help you make the most of what Disney has to offer when you plan ahead! This week, Disney released the Disney World package rates for 2017, which means now is the perfect time to start planning your family's first (or next) adventure!
Here are some ways you'll find value in starting the planning process now:
Resort and room options: Booking for 2017 dates just opened, so right now you'll have the first choice of dates, resorts and room options. If you've had your heart set on a Theme-Park View at Contemporary, or a Royal Room with a River View at Port Orleans Riverside, now is the time to grab it! Or, if you have specific dates your vacation needs to fit into, you'll have the most to choose from right now.
Best. Dining. Ever: Booking dining as soon as the booking window opens, 180 days ahead of check-in for Disney World Resort guests, is the best chance you have to get the restaurants you want, on the days and times you want them.  If fan favorites like Cinderella's Royal Table or Ohana are on your must-do list, you'll want to start planning ASAP!
New attractions: The long-awaited Frozen Ever After ride and a new version of Soarin in Epcot, nighttime experiences at Animal Kingdom, and a greater Star Wars presence in Hollywood Studios are just a few of the new things you have to look forward to when you visit in 2017! Learn more about Disney's latest expansions here, and sign up for our newsletter to stay informed about what's opening next!
Flexible payments: Final payment is due 30 days ahead of your check-in date, but did you know that you can make payments as often as you want after you make your initial $200 deposit to secure your reservation? You also have the option to pay the balance in full on (or before) it's due.
Time is your to-do list's best friend: Starting to plan before the dining (and FastPass) booking window opens gives you more time to imagine your Disney vacation, and for your travel planner to help you make it happen. Having time to define your must-dos, and exploring the possibilities, will make your experience more meaningful and memorable.
Ready to start planning? Contact us now for a quote (and select your favorite Middle of the Magic Travel Planner.) We look forward to coordinating your vacation details and making  magic for you and your family!