Written by: Bridget Virden, Senior Travel Planner 
Who else is counting down the days until April 4, 2023? Tron Lightcycle/Run opens in Tomorrowland at Walt Disney World's Magic Kingdom on April 4th. Based on the Tron films from 1982 and 2010, the attraction will be one of the fastest coasters at any Disney theme park in the world! Ready to join Team Blue? Several of our agents have had the chance to preview the attraction, and here are five things you need to know as you plan to be digitized and enter the Grid! (Did you catch the Error 404 reference with the opening date? Pretty clever, yes?)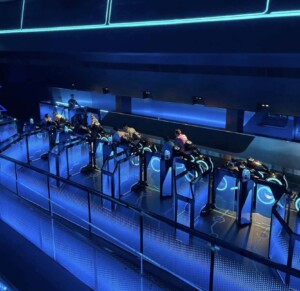 There will not be a stand-by queue when Tron initially opens. If you've been to Walt Disney World over the past few years, you may be familiar with the virtual queue system, as the parks often utilize a virtual queue when a popular new attraction opens. Rise of the Resistance and Remy's Ratatouille Adventure have both had virtual queues in the past, and currently, Guardians of the Galaxy: Cosmic Rewind utilizes a virtual queue. For Tron, guests with a valid ticket and park pass reservation for Magic Kingdom will have the opportunity to join the virtual queue at 7:00 am or 1:00 pm. The virtual queue can only be joined once per day during regular park hours, and there is no cost to join. The virtual queue is very competitive for new rides, and the queue can fill up within seconds!
Tron will be added as an Individual Lightning Lane selection. Tron will not be included in the Genie+ line up when the attraction opens, but a one-time ride will be available for purchase. Individual Lightning Lane selections generally cost between $10 and $25 per person, based on the date of your visit. At 7am, Disney resort guests will be able to select a one hour return time and pay for access to the Lightning Lane. Guests not staying at a Disney resort hotel can purchase at official park opening. Expect Individual Lightning Lane selections to sell out, as demand for a chance to enter the Grid will be high!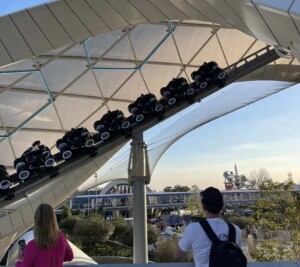 There will be a digitized, double-sided locker system to store belongings. Loose items will not be permitted on Tron Lightcycle Run. Complimentary lockers will be provided for larger items, such as backpacks, and can be opened using a Magic Band or ticket card. Smaller items, like cell phones and sunglasses, can be placed in a compartment located on the ride vehicle. This is the first time Walt Disney World has required larger items to be stored in a locker – and with a launch reaching speeds of 60 miles per hour, you definitely won't want to be trying to hold onto your hat! There is also a recovery zone in case guests need a moment to readjust to reality. There are benches, water fountains and a dog crate for service animals as soon as you exit the ride.
In-ride photos and video will be captured. Think you'll be ready to smile for the camera with these speeds? Ready or not, if you're wearing a Magic Band your photo will link automatically to your My Disney Experience account. No Magic Band? Enable Bluetooth for the My Disney Experience account on your mobile phone and make sure it's stored in the small compartment on the ride. If you've purchased Memory Maker for your trip, photo downloads from Tron will be included.
Reach out to your Middle of the Magic Travel planner for tips! Our agents are experts at navigating virtual queues and Individual Lightning Lane selections! We will make sure you understand both options before your trip so you have the best chance of boarding a Lightcycle on your next visit to Magic Kingdom. See you all in the Grid!