During our most recent trip to Walt Disney World, we took the opportunity to try as many specialty 50th Anniversary snacks we could!! To get a different perspective, I decided to have my kids (Jackson, age 7 & Emmy, age 2) try all the snacks and rank them!! Below are their reviews and top picks for the best 50th Anniversary snacks!!
Glimmer and Shimmer Blondie
Described as a Gooey Toffee and Toasted Coconut Blondie with Salted Caramel Buttercream and festive Gold Nuggets, this was a hit with Emmy, who did not want to share!! Jackson enjoyed the Buttercream but coconut is not his favorite so he had no problem sharing this snack.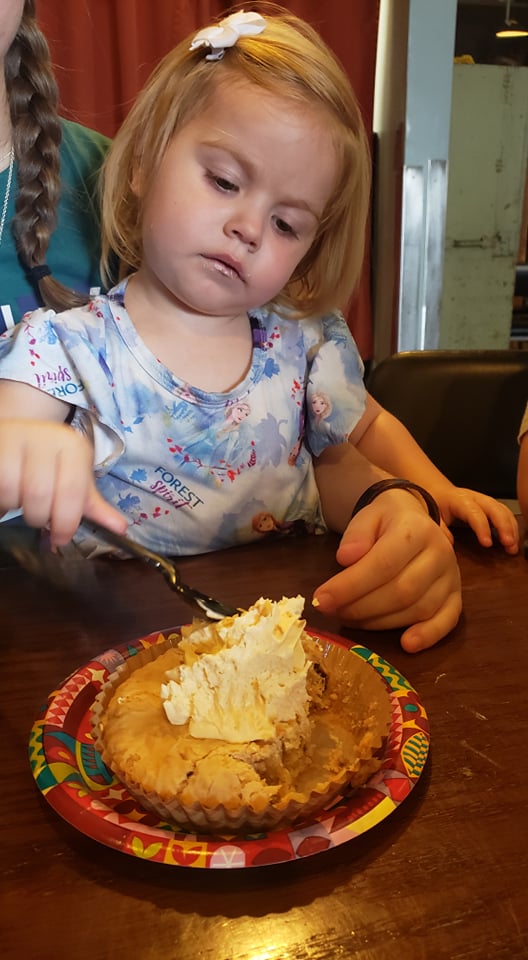 The Doom Berry
This Blackberry and Ginger Beer was yummy according to Emmy. Jackson said it was really good but left a funny taste in his mouth after drinking it!!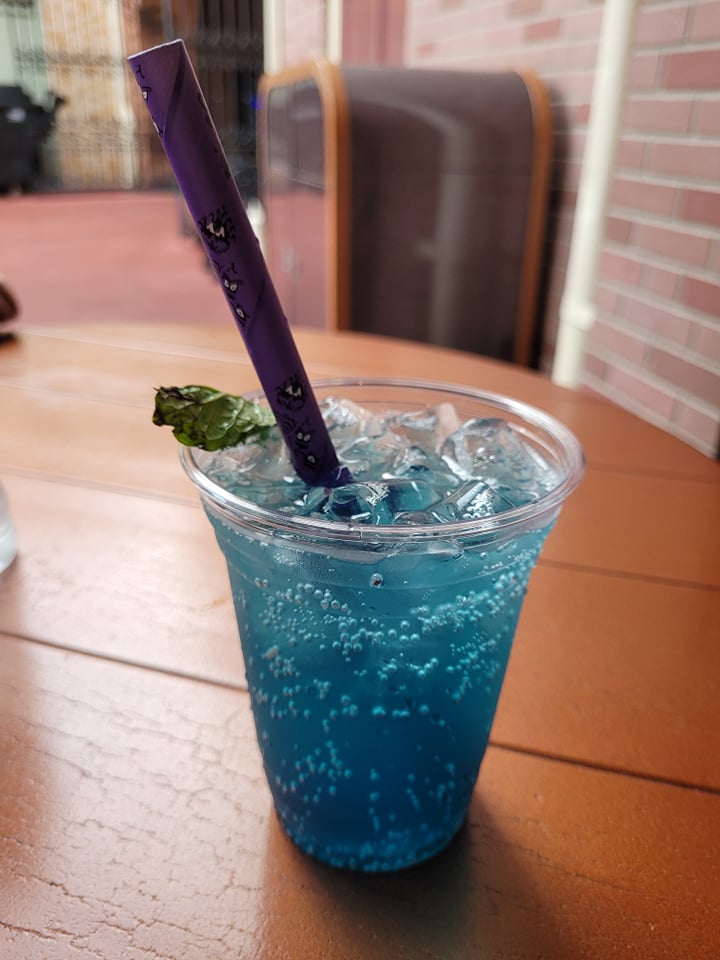 Happy Haunts Milk Shake
Talk about a perfect dessert combo for my little ones, this is a Blackberry Milkshake topped with a Purple Chocolate-glazed Doughnut covered with Black Sprinkles!! Both kids loved the doughnut and said it was especially good with the shake. Jackson really liked the Milkshake and said it was Berry flavored but not too much and didn't have chunks of berry, which he said made it a really good shake.
Dumbo Churro
My kids are not typically Churro fans, so I was hesitant to get them this one, but decided to take a chance and I'm so glad I did!! This Churro rolled in peanut dust and served with chocolate dipping sauce was a huge hit with both my kids. Emmy enjoyed without the chocolate sauce, Jackson tried it with the chocolate sauce but said it was better without the sauce.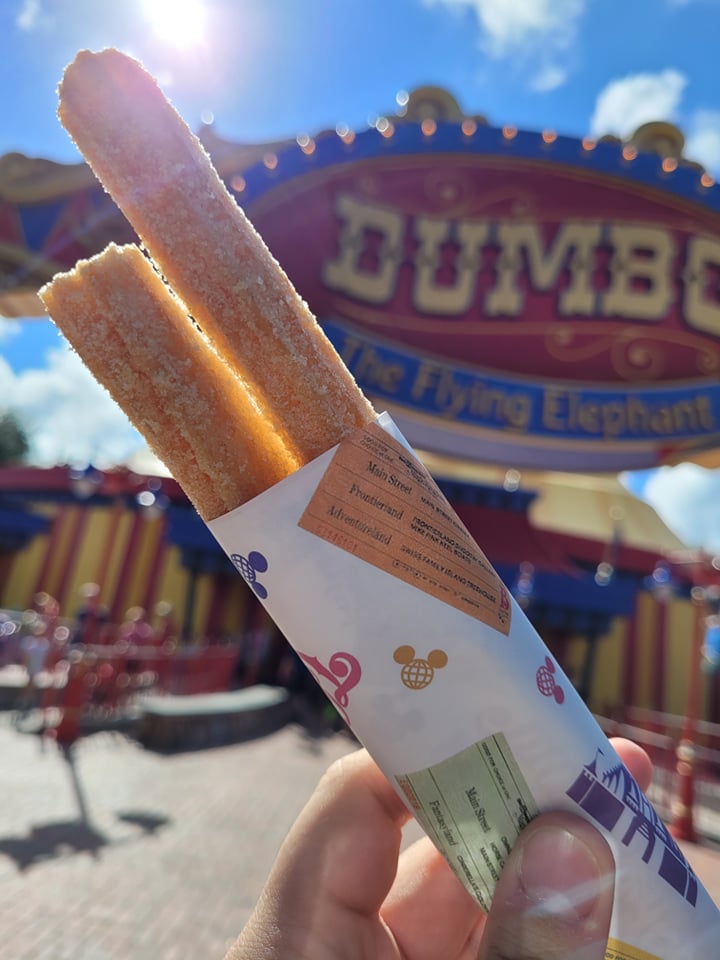 Jumbo's Surprise
Popcorn is a favorite snack whenever we visit Disney and this new offering was no exception!! The caramel popcorn blended with Twix candy pieces and a hidden chocolate feather is served chilled, which does make it a little chewy. Emmy loved this treat and snacked on it throughout the day. Jackson enjoyed the popcorn but preferred the Churro, which is offered at the same location!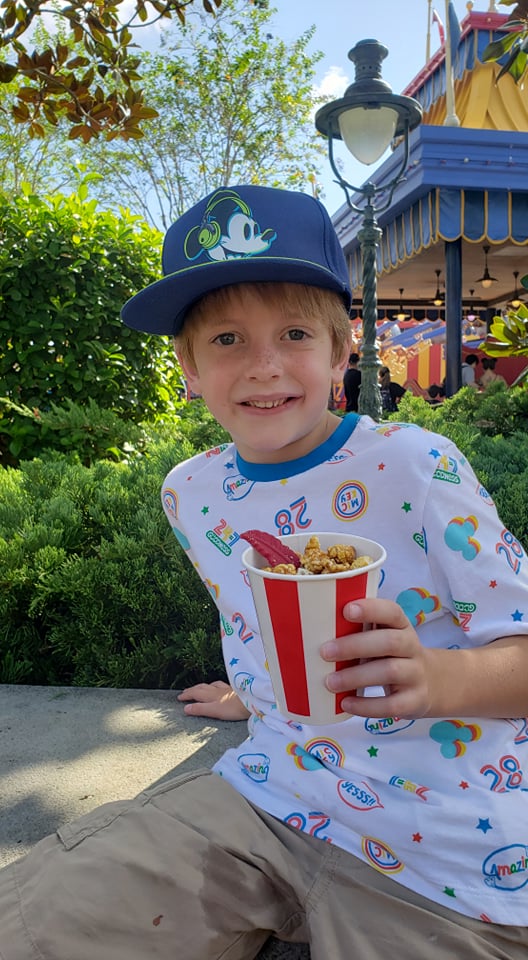 Mini Chocolate Bundt Cake
The description of this dessert had me hoping they would have lots leftover! The Mini Chocolate Bundt cake with Chocolate Ganache, Sprinkles, and Icing dusted with EARidescent Shimmer and Chocolate 50th Anniversary Garnish was very pretty. Emmy enjoyed the 50th Chocolate on top, Jackson said it was good but it was a lot of chocolate!!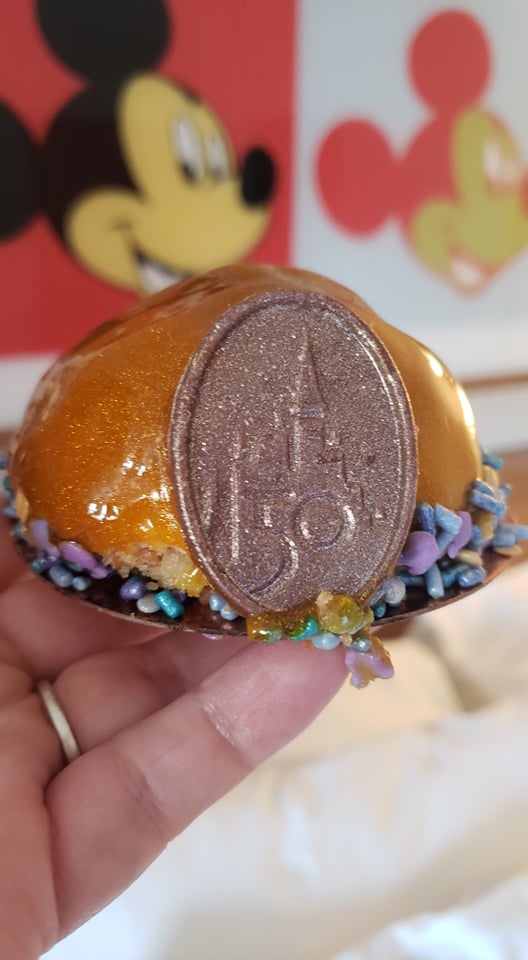 50th Anniversary Dessert
This was the first dessert we purchased when we arrived at our Resort. It was almost too beautiful to eat. When I described it to Jackson, Raspberry Cheesecake with a Rose Gold Champagne-infused Glaze on an Almond Cookie, he said he wouldn't like it! Boy was he wrong!!! He and Emmy loved this dessert. Jackson said it was sweet but not too sweet and he liked the 'crust'. This was by far the favorite of all the snacks we tried and was the only one they asked to get again!!
These snacks along with so many more are being offered throughout the 18-month-long 50th Anniversary Celebration at the Walt Disney World Resort and my kids (and I) think they are definitely worth checking out!!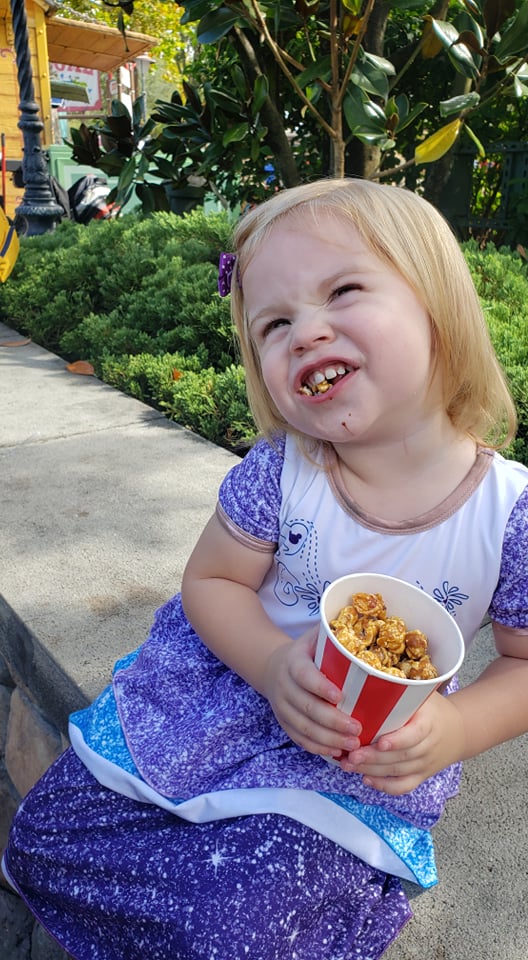 If you'd like help finding the best places to eat, stay and play at Walt Disney World, Disneyland and Universal Orlando Resort, our experienced Travel Planners are waiting to help you! Use the contact form below to get started!
Request a Quote
Vacation Request Quote Form for Middle of the Magic Travel
About the Author
Theresa Dougherty is a founding member of the Parent Panel. She has 4 sons and a daughter, and specializes in Disney vacations for tweens, teens and older children.