Written by: Nicole Hickey, Senior Travel Planner 
Want to live out your gaming dreams? Look no further than Super Nintendo World located in Universal Hollywood Studios. New and old fans alike will enjoy all of the interactive features and special elements from Mario's world. Here are the top tips to make the most out of your gaming experience.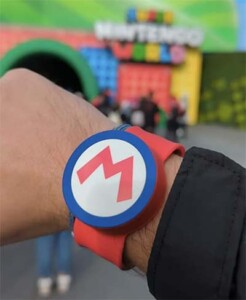 Tip #1: As soon as you arrive at Universal Hollywood Studios, check the app and see if you need a reservation to enter Super Nintendo World. After you secure a reservation through the Universal Hollywood app, you will be given a window of time to return to Super Nintendo World and enjoy all the land has to offer. Enjoy a reservation free entry when you purchase the Universal Express Pass or the VIP experience. Be sure to ask your Middle of the Magic Travel travel planner for more details.
Tip #2: In order to unlock the incredible interactive elements of this world, be sure to purchase the Power-Up band. These fun bands are located in various retail locations throughout Universal Hollywood. You will use your band to collect digital coins and keys throughout the land. Once you earn 3 keys, you can enter Bowser Jr.'s hideout to play the Bowser Jr. Shadow Showdown. Keep track of your score through the Universal Hollywood app.
Tip #3: Try the Mario themed food at Toadstool Cafe! Reservations are required and you can only make them on the day of via a QR code posted at the entrance to Super Nintendo World and Toadstool Cafe. Some of the delicious options are Toadstool Cheesy Garlic Knots, Tomato Soup in Super Mushroom Bowl, Piranha Plant Caprese, Mario Burger (with a mustache on the bun) and Princess Peach Cupcake just to name a few and ALL are instagram worthy. Gluten free and vegetarian options are available as well!
Tip #4: Don't forget to visit the 1-UP Factory retail shop and purchase collectable memorabilia. 1-UP offers an array of merchandise from Mario and Luigi themed apparel to plush characters, including Mario, Luigi, Yoshi and Bowser.
Tip #5: Mario Kart: Bowser's Challenge is a MUST! The que itself is a throwback to all things Mario, take your time looking at the amazing details. As you are about to board your cart, you will put on a headband that allows special glasses to be attached and these glasses provide augmented reality during the entire ride. Your goal it to earn as many coins as possible for Team Mario to defeat Team Bowser. Your cart moves along against a multi-sensory backdrop of color, sound and movement.
You really feel like you are inside a Mario video game! Wow! This visually stunning World will allow you to experience what it is like to be part of Mario's World. A truly must see for anyone who has grown up playing Nintendo. Let's a go-go!