This is our second experience eating at the new Wolf Gang Puck restaurant at Disney Springs. The sausage and fennel pizza made me come back this time, but unfortunately I still don't think they have the service part down quite yet.
We were promptly seated in an empty restaurant with a table not even big enough for all of us. Then, it look several minutes for our server to come to take our drink order. She wasn't super friendly, and then took quite a while to return with drinks. Once she returned with drinks, she took our order but didn't go over the menu or offer suggestions.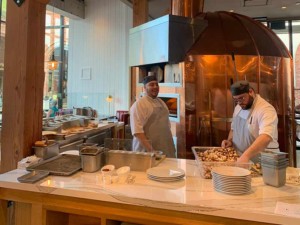 We did not see her from the time she took our order until well after our food was served. Then, I had to ask for a single refill for my drink. Anyone who knows me that's a big no-no when waiting on yours truly.
The food all came out at different times, which is something I do not like when having a family meal. The food did come out warm, except for my pizza, and presented well. We don't have an issue with food as much as the service. We were not offered dessert, but I did ask to see a dessert menu for my kids. My son ordered the Cream Brûlée, and it was delicious.
My conclusion is the food here is very good, but we just can't justify our clients eating here due to the service. Save your dining credits for better service!