Written by: Bridget Virden Senior Travel Planner
Have you heard folks talk about "staying on the monorail loop" and wondered what in the world they were talking about? Monorail resorts are a fantastic choice if you're looking for a magical and convenient experience during your stay at Walt Disney World.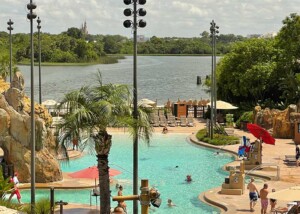 Let me break it down for you:
Walt Disney World Resort features three incredible monorail resorts: Disney's Contemporary Resort, Disney's Polynesian Village Resort, and Disney's Grand Floridian Resort & Spa. These resorts are not only luxurious places to stay but also offer a unique advantage due to their close proximity to the monorail system.
The monorail is a sleek, futuristic train that seamlessly transports guests around the resort. And the magic happens because these three resorts are directly connected to this monorail loop. Let's take a closer look at each one:
Disney's Contemporary Resort: This resort is a modern masterpiece, with sleek design and even more fascinating, the monorail actually goes right through the main building. Imagine waving to passengers while you enjoy Mary Blair's vibrant 90-foot mural from the Grand Canyon Concourse! The Contemporary Resort offers stunning views of the Magic Kingdom Park and provides a chic and comfortable environment for your stay.
Disney's Polynesian Village Resort: This resort transports you to a tropical paradise with its palm trees, tiki torches, and laid-back atmosphere. The monorail glides right past this resort, making it incredibly convenient to hop on and explore the parks or other destinations on the monorail loop.
Disney's Grand Floridian Resort & Spa: If you're into Victorian-era charm and luxury, this resort is for you. With elegant chandeliers, lush gardens, and an opulent ambiance, the Grand Floridian Resort & Spa is all about class and sophistication. And yes, the monorail swings by this resort too, making transportation a breeze.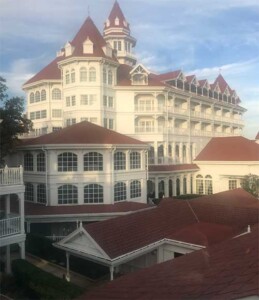 Now, let's talk about the benefits of staying at one of these monorail resorts:
1. Proximity to Magic Kingdom: The biggest advantage is that these resorts are super close to the Magic Kingdom Park. You can hop on the monorail and be at the park gates in no time. This means you can easily pop back to your room for a quick rest or to freshen up before returning to the magic.
2. Convenient Transportation: The monorail isn't just a mode of transportation; it's an attraction itself. You can use it to efficiently reach other parts of the resort, saving you time and energy. Plus, it's a fun experience for both kids and adults!
3. Stunning Views: The monorail resorts offer breathtaking views of the surrounding area. Whether it's the enchanting Magic Kingdom Park or the serene Seven Seas Lagoon, you'll have a front-row seat to some of the most iconic sights.
4. Unique Atmosphere: Each monorail resort has its own theme and ambiance, ranging from modern to tropical to Victorian elegance. You can choose the one that resonates with your preferences and enjoy an immersive experience throughout your stay.
In a nutshell, staying at one of Walt Disney World's monorail resorts means you're not only immersing yourself in luxurious accommodations but also gaining easy access to the magic of the parks and the convenience of Disney's efficient monorail system. It's like having a VIP ticket to the heart of the enchantment, making your vacation truly unforgettable.