The last few months have been overwhelming, stressful, and downright difficult! Us agents have been working hard to remain available for clients, answer any questions we can, help re-book vacations, and more! We have sure missed visiting the theme parks.
It was so exciting to hear that the Universal Orlando Resort was re-opening, so I quickly made plans to go as soon as possible, to check out the "new norm" that is temperature checks, social distancing guidelines, and mask-wearing.
When we arrived at the Universal Orlando Resort, we parked, and within 10 minutes we had completed temperature screening, and security check. It was a seamless process, and team members were available to assist, answer questions, and ensure that social-distancing guidelines were followed. Team members are also ensuring that your mask is on properly (over the nose and mouth).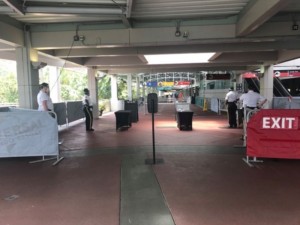 As we entered the park, a team member stood on a platform with a microphone, letting guests know of the new guidelines. There was also signage all across the front of the entrance.
We started in Islands of Adventure! We got into the park within 5 minutes- it was very efficient. There was signage throughout the park, promoting the Virtual Line option, and a QR code to scan. (Tip: you can go right into the camera app on your phone and hold your phone up to the QR code. Your phone will know it is a QR code, and the link will show up at the top of your screen. Click that, and it will take you to the Virtual Line options for that attraction, if times are available). When we first entered the park, there were no times available for Hagrid's Magical Creatures Motorbike Adventure, but within in an hour of being in the park, we were able to get a virtual line spot for that same hour. It was amazing, as always, and I can confirm that our masks did stay on throughout the ride with no problem!
We spent some more time in Islands of Adventure before heading over to Universal Studios. A lot of the retail stores have opened the doors completely, so you can get a blast of air conditioning as you are walking through the park. For the most part, my mask was very comfortable. I had a fabric mask, and it had enough layers for protection, but it was light enough for the Florida heat. By mid-day, it started to feel a little warm, but pulling the mask slightly off the face for a quick breath of fresh air helped a lot!
Although there are U-Rest areas, where you can rest without having to wear your mask, we did not utilize them during our visit this weekend. We felt like we had gotten enough of a break from the mask while we sat down for lunch, but it is great knowing that there is an area you can go, if you need to take an extended break without having to wear your mask.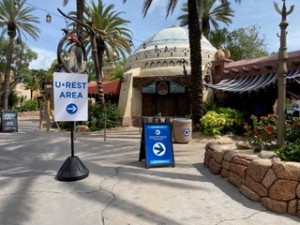 One of the biggest changes I noticed was the Child Swap procedures. Rather than waiting in the Child Swap designated rooms, the adult that is waiting with the child will receive a receipt-like paper that says "Child Swap Pass" and asked to wait in the gift shop, or outside of the attraction. Because we all needed some air conditioning at this point, we opted to wait in the gift shop, rather than outside of the attraction while waiting to switch with the rest of the party. I did find that the gift shops seemed to be a bit more congested, due to parents waiting with children. However, it was a nice opportunity to cool off.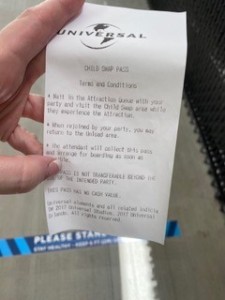 We enjoyed seeing characters from a distance! Foot markers are on the ground, and a member of your party can take a photo of you, with the character distanced behind you on a staged area. It actually made some wonderful photos, and although we miss the hugs, it was great to see some of our favorite characters again!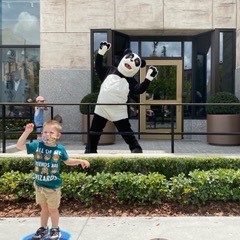 Another difference is at Jimmy Fallon's Race Through New York. Rather than the re-usable colored cards you used to get to signify your boarding group, you are now given a colored, paper ticket, and are asked to throw it away once you enter the main attraction.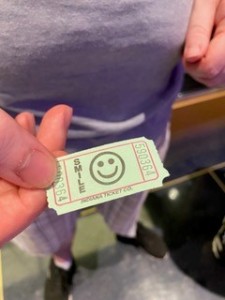 What I have to say from our visit is that the Universal Orlando Resort has done an absolutely amazing job with re-opening. All team members were organized, and available to answer questions. All guests did a great job making sure to social-distance in the lines, which involved being aware of those in front of you, and staying behind the designated line in the queue. All of the queues were clearly marked, and we never felt as if we were too close to other parties.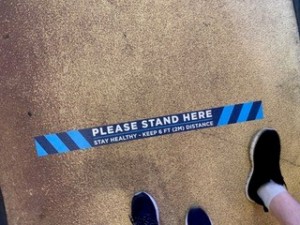 One word of advice I have for all of our clients traveling is to stay hydrated!!! Wearing a mask, it is easy to forget to drink plenty of water. Although I never really felt really hot, I did feel a lot more thirsty by the end of the day, so next time I will be sure to buy a bottle of water, and constantly sip it throughout the day to stay hydrated.
We had a wonderful time, and can't wait to visit again soon. Although this may be the new normal for a period of time, we felt comfortable returning to the parks, and had a wonderful experience.
All of us here at Middle of the Magic Travel can't wait to help you plan your "wizarding" family trips soon!