By Sheena Mutchler 
Coronado Springs Resort is a beautiful moderate resort located in the Animal Kingdom Resort area and is also home to the magnificent Grand Destino Tower, but for today I will be giving an honest review of my families most recent stay in the Cabana section at Coronado Springs Resort. There are many things that factor into my decision when choosing a resort for myself and in helping recommend one for others. Some of these factors to consider are resort amenities, including pools and dining options, ease of transportation as well as transportation options, resort location, budget, and the overall aesthetic of the resort.
My family and I do enjoy a resort day during our Disney vacation so for us a good pool is important as well as having some great dining options. Coronado Springs did not disappoint in either of these areas! The Lost City of Cibola pool is the feature pool at this resort. It is located in the Dig Site complex and includes the Spitting Jaguar Slide as well as a 50-foot replica of a Mayan pyramid. This area is also home to the largest hot tub on Disney property which was a huge bonus after long park days! There are also some fun activities located in the Dig Site which include a fun playground, the Iguana Arcade(which was closed during our visit), a kiddie pool and white sand volleyball court. My family and I chose to spend most of our resort time enjoying the pool and hot tub! The slide was a huge hit for my kids(12 and 10) as well as for myself! I'm really just a big kid at heart! Siestas Cantina is also located in the pool area making it a very convenient option if you're looking for a quick bite or cocktail.
Located just a quick walk away from the Dig Site is Three Bridges Bar and Grill at Villa del Lago which is highly underrated in my opinion! I thought this restaurant had a great ambiance, delicious food, the service was great, the views were even better and the sangria flight was the highlight of my meal! Three Bridges Bar and Grill is a quick service restaurant, meaning you do not need advanced dining reservations, however, I do strongly recommend using the mobile app to join the walk-up list well in advance if possible. I joined the walk-up list 2 hours before we were planning on eating, while we were enjoying the pool, and it worked out perfectly! We were seated next to the water with the most magnificent view of Grand Destino Tower. We were seated at dusk and the view only got more spectacular as the sun went down. I ordered the Crispy Chicken Biscuit Sliders and Paprika fries and oh my goodness were they delicious! Everything we ordered was received with completed satisfaction!
My family and I also ate at Rix Sports Bar and Grill where the Watchos were amazing. The rest of our food was good and there were zero complaints but we weren't blown away! There are also some other spectacular restaurants to choose from at Coronado Springs Resort including Toledo-Tapas, Steak and Seafood, Maya Grill and Dahlia Lounge but during this trip we did not choose to eat at any of these restaurants!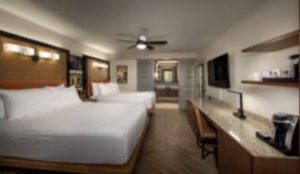 Ease of transportation and transportation options is an important factor to consider when choosing a resort. At Coronado Springs Resort the only free Disney transportation available are the Disney buses. Some of the other resorts have the benefit of being on the skyliner or monorail path, or even being within walking distance of a park, but Coronado Springs is not one of them. I do think this is a negative for this resort although I will say that I was very pleased with the busses. There are 4 bus stops. When doing check-in I requested a room close to the pool and close to the busses. Our room was in building 8B on the 2nd floor on the corner in the Cabanas section. We could see bus stop 4 out our window so it was very easy to get to and a very short walk which was nice in the evenings when we were tired and returned from the parks. Our wait to get on a bus was very minimal even though the busses had to go to other stops before ours and even stopped again at bus stop #1 in front of Grand Destino tower before heading out. Overall I do prefer being on the skyliner or monorail path.
Resort location is another important thing to consider when choosing a resort. Coronado Springs Resort is located in the Animal Kingdom resort area and is closest to Animal Kingdom with Hollywood Studios being the next closest. You can see the top of Expedition Everest while walking around the resort which is really fun! You can also see some amazing views including Galaxy's Edge at Hollywood Studios from the top of the tower when dinging at Toledos or Dahlia's Lounge. Magic Kingdom is the furthest park from this resort but took no longer than 20 minutes once the bus was on the road to when it parked at Magic Kingdom, which I didn't find to be a horrible commute. I do prefer being closer to Magic Kingdom or Epcot but being a little further from those parks didn't ruin my love for Coronado Springs Resort.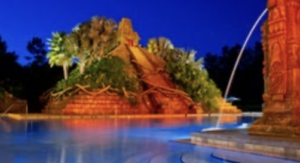 Budget is always an important factor when choosing a resort as well, both for me and many of clients. While some resorts and rooms, like the Bungalows at the Polynesian Resort are on my bucket list, my wallet doesn't always agree. Coronado Springs Resort is a moderate resort but truly feels more like a Deluxe resort, making it a great option when you're wanting to feel that you're truly staying somewhere nice but don't want to break the bank! In fact, Coronado Springs, is often the cheapest of the Moderate resorts although the cost is usually pretty comparable at all Moderate resorts.
Coronado Springs Resort has a beautiful ambiance and overall aesthetic, with a blend of Spanish, Mexican and Southwest American cultures! If you are looking for a resort that screams Disney and your kids are anticipating seeing larger than life statues of some of their favorite characters than unfortunately this is not the resort for you. The Disney theming is much more subtle at this resort and includes our pals from the Three Caballeros! Our room was newly re-imagined and was really a very beautiful room, the bathroom was nice, with a sliding door separating it from the rest of the room and a nice unique feature is having a long counter with a desk and dresser and mini fridge underneath. This counter came in very handy for all of our things that we didn't want to pack away every night. We each had our own section to lay out our lanyards with pins, our ears, our magic bands and to plug in our portable power packs so they were juiced up and ready to go the next day! This honestly made our room very comfortable and easy to keep tidy with a place to put things.
Overall I was highly satisfied with our stay at Coronado Springs Resort because it was easy on the budget but made me feel like I had splurged for a more luxurious Deluxe Resort. The pool was a highlight as was the food. The transportation and location leave a little to be desired compared to some other resorts, but wasn't a huge disappointment, and the ambiance and overall feel of the resort was very pleasant and the lobby is absolutely gorgeous! I would stay here again and would recommend this resort to anyone with similar wants and needs!