Written by: Bridget Virden, Senior Travel Planner 
If you're looking for an out-of-this-world dining experience, you'll want to add Epcot's Space 220 to your dining reservation wishlist! Space 220 is a unique restaurant themed around space travel and designed to simulate the experience of dining in a space station orbiting Earth, 220 miles above the planet's surface!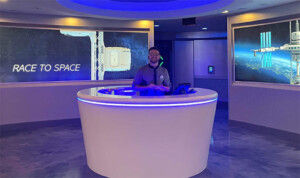 Getting there is half the fun! To access the restaurant, you'll board a special "space elevator" that will take you on a journey from Earth to space. During the ride, you'll see views of Earth and the International Space Station. Once you arrive at the restaurant, you'll be greeted with a panoramic view of Earth through the space station's observation deck. Have your camera ready – you'll definitely want to capture the moment!
There are two different reservation types at Space 220. The prix-fixe reservation includes a 2-course meal at lunch or a three-course meal at dinner. At both lunch and dinner, you'll find contemporary American cuisine with a space-themed twist! Dishes include lobster rolls, flatbreads, and burgers, as well as vegetarian and vegan options. The restaurant also has an extensive selection of cocktails, beer, and wine, including some that are exclusive to Space 220. Currently, lunch is priced at $55 per adult, while dinner is priced at $79 per adult. A child's meal will be $29 for both lunch and dinner, and a child's meal includes a pack of Space 220 collectible trading cards.
If you want to enjoy the experience of dining in space but don't want the prix fixe menu, consider booking a lounge reservation! We always opt for the lounge reservation to save a bit of money – and stomach space since we love enjoying the small plates offered when Epcot is hosting a festival! Our plan of attack is to order a variety of appetizers to share at the table. There are several appetizers offered on the lounge menu, including "starry" calamari and short rib sliders, and our waiter let us know we were welcome to order from the regular menu, as well.
Overall, Space 220 offers a unique and immersive dining experience that combines tasty dishes with an unforgettable view! I definitely recommend trying it during your next visit to Epcot. Reach out to your Middle of the Magic planner for more information or help booking reservations!