Take in the sights and sounds as you set out onto the savanna while the sun is setting. Your evening will begin aboard a private safari, deep into the Harambe Wildlife Reserve. Before setting out in the truck, a guide will check you in, and offer the most amazing juice containing orange, pineapple, and mango. Board your safari truck, and pass by giraffes, hippos, crocodiles, flamingos, elephants and more as you begin to see the "Boma" in the distance. Your guide will spend plenty of time telling stories of all the local residents that occupy the Reserve! Our guide even stopped for about 5 minutes when we got within arm's reach of a giraffe. Such a cool experience!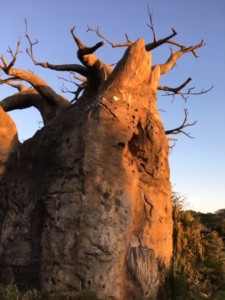 By now, you are probably starting to get hungry as it is now evening, and time for dinner! Your guide will drop you off right at the "boma" on the savanna. You will be greeted by cast members who have been awaiting your arrival! They will offer you a beverage right away, while you have time to explore the elevated pathway behind the meeting place. If you aren't interested in regional beer and wine offerings, non-alcoholic beverages will be served.
This is where the tour of African-inspired flavors begins! Take a seat on the deck, taking in the views of the last slice of sun cutting through the horizon, and the animals grazing for their dinner. For our experience, we received a tiffin tin, perfect for the environment and theme! However, sometimes this tour serves food in a "buffet fashion".
If your experience involves the tiffin tin, it will have a note on the top if you have an allergy to ensure you receive the correct tin. Menus are subject to change at any time, so keep that in mind as I explain the wonderful tapas we received. The first tin contained an assortment of breads with a flavored oil. So delicious, and full of flavor. A perfect beginning to the meal! The second tin contained an assortment of cured meats, curried chicken salad, and fruit medley. Everything was so fresh and unique, we really got the African-Indian flavors in everything we had. The third tin contained a smoked salmon rollup, chilled, marinated shrimp, sun-dried tomato hummus, and a selection of pita bread. Very satisfying to the palette!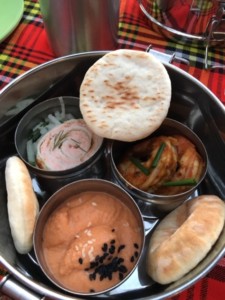 After this filling meal, you will have a chance to look over the savanna, before loading back up in the safari truck, and making your way back to the entrance of the reserve. At that point, your guide will say "kwaherini" until next time! You will be given a keepsake gift to remember this once-in-a-lifetime experience!
Next time you are visiting Walt Disney World, and Animal Kingdom specifically, consider embarking on this very special tour. It is currently $169 per guest, and does fill up very fast in order to ensure a small, intimate group setting. It is the ultimate experience for those that love the Harambe Wildlife Reserve, and local, African cuisine!