Written by: Jenn Gehly 
When I was thinking about activities to keep my family active, I would have never thought to do something in Disney World. But my husband and I got into virtual RunDisney races. We did a full year of them and had so much fun. Then my kids started doing them. Once we got those down, it was time to do one in person. So my husband, 12 year old, 10 year old, and myself signed up to run the Springtime Challenge April 2023 in Walt Disney World. The kids doing the 5k and husband and I doing all 3 races, 5K, 10K, and a 10 miler!! We trained for 6 months and felt we were ready.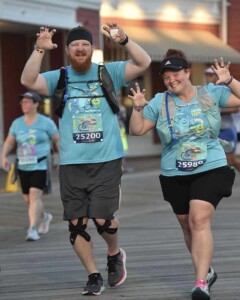 Day 1 was expo day. We all had to go pick up our bibs and race shirts. Plus visit vendors and buy some merchandise to remember the weekend. The energy and excitment for the next day of races was electric. Everyone was saying good luck and making signs to encourage everyone. My kids were so excited. That night, we had a great dinner at Sebastians Bistro. Then we got ready for the morning and went to bed early. That 2 am wake-up call was going to come early.
Race Day has arrived. Getting everyone out of bed and out the door was a struggle. We ate a light breakfast in the room, got our bibs attached, water bottles filled, and headed to the bus. Each Disney resort offers complimentary race transporation. The resort will have times posted in the main lobby. Once we entered Epcot parking lot, we went to the party!! At the start of the races, there are food tents, character, and a dj to hype up the runners. My kids were so excited. We got interviewed by the race correspondents, which was awesome. Then it was time to head to the corrals. We hung out here for about and hour, then it was our turn to start.
3, 2, 1 GOOOO!!
We started to run and had a blast. Entered Epcot and we started to see characters. My kids were so excited that we only stopped for one, Jessie. Got a picture with her and then we were off. Just smiling and dancing to the music playing. Rounding a corner and we see the gospel choir, almost finished. Then we can see the finish line….we crossed as a family.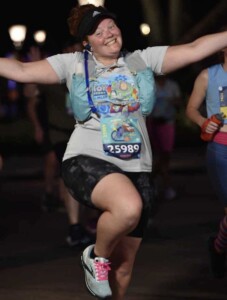 In Abigail's words, "I had a lot of fun. There was zero pressure to run fast so we could take it all in. It was cool to see backstage of Epcot."
In Simon's words, "This was so much fun. I can't wait to do another one. When is the next one we can do?"
Chris and I had 2 more days of this energy and excitement. We met people along the way that we now have friendships with. We are planning on running with them next spring. All I can say is the RunDisney community is the best. Everyone was so encouraging and pushing each other to finish. We made memories with our kids and they can't wait to do it again.