Written by: Bridget Virden, Senior Travel Planner 
Hey howdy hey! There's a brand-new restaurant in Toy Story Land at Disney's Hollywood Studios! The backstory? Andy has created a rodeo and when you enter the restaurant, you become one of his toys at play! The menu is family-style BBQ and is all-you-care-to-enjoy. Drinks are included, however there is an additional charge for alcoholic or specialty beverages.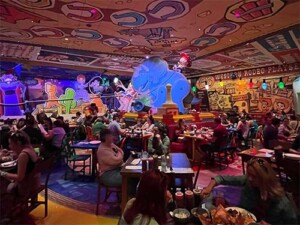 The inside of the restaurant is adorable! Like the rest of Toy Story Land, you feel as if you've shrunken down to toy size and there are tiny details everywhere that will make you smile. The walls and ceilings are "repurposed" boxes and the waitstaff enter and exit the kitchen through a door cut into a milk carton. There's a stand filled with stick-horses behind the check-in desk, and younger bucaroos may have a chance to gallop to their table. Definitely take a walk around the restaurant to take it all in!
On to the menu! Round one – bread and salads. The cheddar biscuits with sweet pepper jelly were a great starter (who doesn't love bread?) and we enjoyed all three salads. There's a tomato and cucumber salad, a romaine and kale salad, and a watermelon "salad." I'm not sure how many ingredients you need to be counted as a salad – this was really just watermelon and mint, but a great option alongside barbecue and one that kids will likely enjoy even if they don't go for the other two.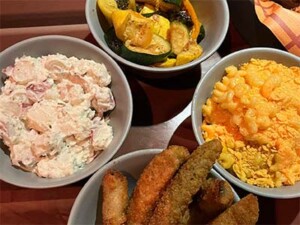 Round two – meats and sides! You'll have the choice between the traditional barbecued meats or a plant-based trio. We opted for the carnivorous platter, which included smoked ribs, beef brisket, pork sausage, and BBQ chicken. Now my family is from Texas, so we hold barbecue to a high standard. Is this going to be the best barbecue you've ever eaten? No. But was it good? Our table preferred the chicken and sausage over the brisket and ribs, but I'm sure this is something that could change depending on the day. There were three sauce options – classic, sweet, and spicy. So if you like sauce, there's sure to be one you'll enjoy. I tried both the classic and spicy and liked the flavor of both.
Along with the meats, your table can select four sides from eight offerings. We opted for potato salad, fried pickles, roasted vegetables, and macaroni and cheese. The stand-out for us was the fried pickle spears, although we would have liked ranch dressing to dip them in. We would order the potato salad and roasted vegetables again, but the macaroni and cheese was not our favorite. Again, I'm sure kids would disagree!
Round three – desserts! Each person at the table can choose their own dessert. There's a lemon and blueberry cheesecake, chocolate silk pie, apple pie, a plant-based peach-strawberry pie, and a Forky-themed cupcake. We ordered cheesecake, chocolate silk pie, and apple pie. The desserts (with the exception of the cupcake) are served in little jars – so cute, and the perfect size for a taste of something sweet.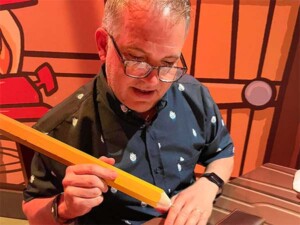 We definitely enjoyed the experience and the food was what we expected. While this is not a restaurant that we will likely revisit as a family, I can see us returning with friends who have not been here before or with a large group. There are some fun antics, but I won't It's a cute experience, especially for Toy Story fans, and I thought the variety and amount of food was worth what we paid (considering this is Disney). Expect to pay $45 for adults and $25 for kids ages three to nine. I would absolutely recommend giving it a try on your next trip!