Written by: Bridget Virden, Senior Travel Planner 
Experience the Magic: Mickey's Very Merry Christmas Party at Walt Disney World!
Hey there, fellow Disney enthusiasts! Are you ready to dive into a winter wonderland filled with holiday cheer? Look no further than Mickey's Very Merry Christmas Party at Walt Disney World. Get ready to immerse yourself in the enchantment of Christmas, where the magic of Disney and the spirit of the holiday season collide. Join us as we take you on a magical journey through this extraordinary event that will leave you with memories to last a lifetime.
Picture this: the sun sets over the Magic Kingdom, and the park transforms into a dazzling spectacle of lights, decorations, and festive tunes. Mickey's Very Merry Christmas Party is an exclusive and limited-ticket event that captures the essence of the holiday season. It's a chance for you and your loved ones to experience the true magic of Disney combined with the joy of Christmas.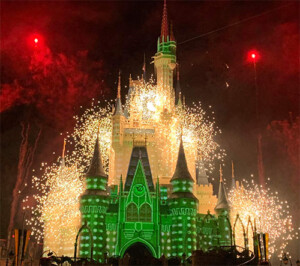 Prepare to be dazzled by the unique entertainment options available exclusively at Mickey's Very Merry Christmas Party. The heartwarming "Mickey's Most Merriest Celebration" stage show brings beloved Disney characters to life as they sing and dance to your favorite holiday tunes. And let's not forget about the iconic "Once Upon a Christmastime Parade" that fills the streets with Disney characters, toy soldiers, and gingerbread men. But that's not all! The night sky comes alive with "Minnie's Wonderful Christmastime," a breathtaking fireworks display that will leave you in awe.
Have you ever dreamed of meeting Mickey and Minnie in their festive holiday outfits? Mickey's Very Merry Christmas Party makes that dream come true! Get your camera ready for rare character appearances, like Jack Skellington as Sandy Claws and the lovable Seven Dwarfs. It's the perfect opportunity to capture those magical moments and create memories that will warm your heart for years to come.
Indulging in delightful treats is an essential part of the holiday season, and Mickey's Very Merry Christmas Party doesn't disappoint. Enjoy complimentary hot cocoa and cookies at various locations throughout the park. And for the ultimate holiday snacking experience, treat yourself to seasonal goodies like gingerbread cookies, peppermint-flavored treats, and special holiday beverages. Trust us, your taste buds will thank you!
Step into a winter wonderland as you stroll down Main Street, U.S.A during Mickey's Very Merry Christmas Party. Witness the magic of snow falling gently from above, transforming the street into a scene straight out of a classic holiday movie. It's a breathtaking moment that will make you believe in the enchantment of Christmas all over again.
Get ready to make unforgettable memories at Mickey's Very Merry Christmas Party! With exclusive entertainment, character meet-and-greets, delightful treats, and the magical snowfall on Main Street, U.S.A, this event is a must-do for Disney lovers and holiday enthusiasts alike. So, gather your loved ones, embrace the spirit of Christmas, and join us at Walt Disney World for an experience that will leave you with a heart full of joy and a smile that lasts long after the holiday season ends. Tickets are available now, and if history repeats itself, dates will sell out. Reach out to us at Middle of the Magic Travel and let the holiday magic begin