Written by: Hannah Ruxton Senior Travel Planner and Mentor 
Just when you think arriving at Walt Disney World is the most magical sight, imagine arriving at Port Canaveral, and seeing a beautiful Disney ship awaiting your arrival. It is so exciting getting closer and closer to port, and seeing the details of the ship come into focus.
My family and I just experienced Halloween on the High Seas on the Disney Wish, and it was stunning. From the decor in the atrium, to special character greetings, there is truly something for everyone.
In addition to the Pirate Night that occurs on most voyages, the third night we all dressed in Halloween costumes! The photographers set up different backdrops around the atrium, so I recommend hanging out in that area prior to dinner for all the photo opportunities. On this same night, is the Halloween deck party, and the kids can trick-or-treat. The bags are similar to those you receive at Mickey's Not So Scary Halloween Party. Don't forget about Minnie Mouse, Daisy Duck and Clarabelle Cow as they dress up as the iconic Sanderson sisters! There is so much to see and do that we simply did not have time for all of it, even more reason to go back!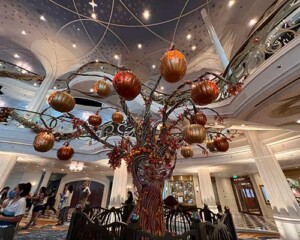 At first, I was nervous to board a cruise with my 7-month old daughter. Our 5-year old son had never cruised either, but I knew he would be excited to go to Oceaneer Club. My nerves were quickly calmed during Open House, when we made a trip to the "It's a Small World Nursery" as I was interested in having our daughter go there during the Broadway show in the evening. The moment we met the counselor's  in the nursery, I knew Paisley would be in great hands. They gave us a bag, with a MagicBand attached to it, that would travel back and forth with Paisley. When it was time to drop her off, we put everything she needed in the bag, so everything belonging to us stayed with her at all times. In the bag, we put diapers, wipes, powdered formula, her pacifier, and a bottle with pre-measured water. As I'm sure you know, pre-mixed formula is only stable for an hour, so we left everything un-mixed then the cast members made the bottle when she was ready. One thing I learned, is that Paci straps that attach to clothing are not allowed, so if you drop off a pacifier that is attached to a Paci strap, the strap will be removed and placed in the bag to come back with the baby. This rule makes complete sense, in order to comply with safe sleep practices. She was so well taken care-of in the nursery, and for only $9 an hour, it is so worth it so you can enjoy some of the activities on board for older audiences. You must book a minimum of an hour, then you can book in 1/2 hour increments after that. You can drop off 10 minutes prior to the reservation, and reservations are made during Open House. If not, then you risk reservations filling up. If you book 2 hours, and decide to pick up after 1 1/2 hours (for example), you do pay for the full 2 hours. So be sure to soak up all the time you can until it is time to pick up!
From the first night at dinner, our server had Paisley taken care of. Upon being seated for dinner, she came over and asked if we needed warm water for bottles, if Paisley was eating solids, and if there was anything else they could get her. I told our server that she is currently eating pureed food, and not even 10 minutes later she returned with a bowl of purred broccoli (and it was warm). Paisley loved it! At the end of dinner that evening, our server took Paisley's order for the next evening, where we decided to order pureed carrots. And she loved those as well. The last night was peas. Disney truly went above and beyond to help ensure her needs were met. Now that we are home, Paisley expects fresh, warm-pureed food all the time!
The outstanding service didn't stop there. Our stateroom host ensured we had a thermos of hot water in our room at all times to make bottles, and every night when we returned to the room, the pack-n-play was set up, and ready for Paisley after a long, fun day of activities. The Diaper Genie was also in our room and ready when we arrived, and the bag was changed daily. The top-notch service made this trip so memorable, and after the first night, we were putting our placeholder down for our next cruise! Where to next? There are so many itineraries to choose from! And at that point, I will be able to report on traveling with a toddler aboard Disney Cruise Lines!