Special ticketed events, like Disney After Hours Boo Bash, are an amazing way to celebrate at the theme parks! Are these events worth it for my family? Yes, yes they are! While Boo Bash is a new experience, it is similar to Mickey's Not So Scary Halloween Party (Disney World), Mickey's Halloween Party (Disneyland) and After Hours events. These ticketed events give your family extra time at the parks with less crowds and a lot of fun extras!
My children will tell you the top three reasons why they loved Mickey's Halloween Party: having the entire family dress up, the free candy and getting to see the villains! Parents enjoy themselves, too. Halloween music is played throughout the park and sometimes your favorite attraction might be decorated specifically for After Hours Boo Bash.
There is something to be said about the entire family getting to dress up together at the Parks! While children might dress up during a normal visit to Disney, parents don't really participate beyond the fun matching t-shirts. It is so fun to transform as a family or everyone's individual favorite character. Getting into the spirit adds to the overall enjoyment for all! We channeled our love for Peter Pan and had so much fun riding the attraction Peter Pan! Have fun with this one as there are so many options for your family. Don't miss out on fun photos of your family dressed up, so check the After Hours Boo Bash map for Disney photography spots to get that special Magic Shot! Please be sure to check Disney's costume policy before you head to the parks here.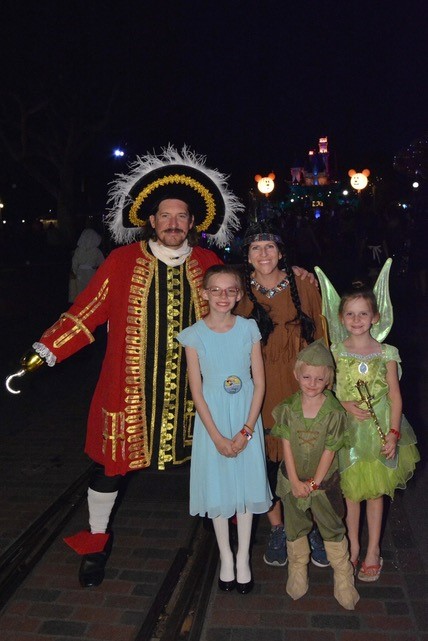 What child doesn't want to trick or treat at a Disney Park?  It is exciting for the children and there are allergy-free options! Boo Bash will also have complimentary snacks like ice cream novelties and popcorn, along with select beverages.  Make sure your family is prepared ahead of time so you can enjoy all the goodies!  There are tasty treats available for purchase as well! Keep an eye on our Mickey's Backyard Facebook Group as we will keep you posted on all the latest details.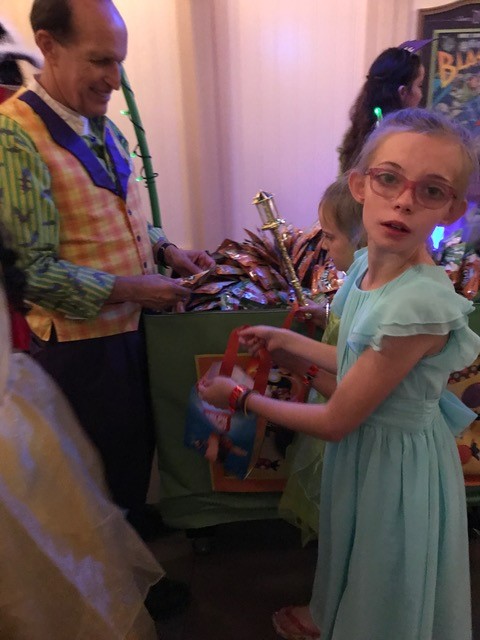 While we all love the heroes of Disney, there is something fun about the Villains!  These characters are typically not found throughout the year and are specifically for special events like Boo Bash.  Maleficent is my favorite villain and you will have a chance to see her in all her glory as a fire-breathing dragon!  Cavalcades will showcase our wicked friends as well as our good pals, Mickey & friends, dressed up for Halloween.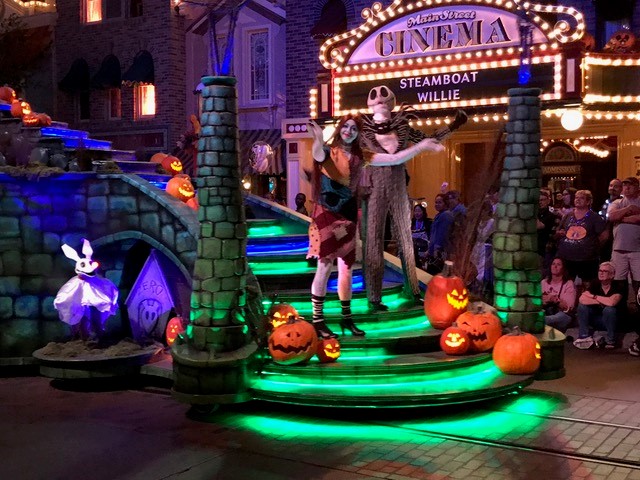 Mickey's Halloween Party was a night we will always remember!  Our family still talks about how much fun we had as it was a unique experience different from a normal day at the parks.  I highly recommend attending any ticketed event Disney offers to create the most magical experience for your family.

Boo Bash Tickets are limited and only offered on specific nights, so be sure to contact your Middle of the Magic Travel Planner to add them to your Disney vacation!
Request a Quote
Vacation Request Quote Form for Middle of the Magic Travel
About the Author
Nicole Hickey is a founding member of the Parent Panel. Her family loves all things Star Wars, and she loves experiencing Disney through the eyes of her daughters and son.