Written by: Miranda Powell Orlando based Travel Planner 
Have you ever dreamed about strolling the streets of Paris and then stopping into a delicious French café with some of the best dishes in the city? Well, if you are traveling to Walt Disney World sometime soon, then you need book your sit-down dining in Epcot at Chefs De France! My family and I always come back to this restaurant even with menu changes. I have dined here for my birthday, family vacations, and solo vacations. I am going to take you through their most recent menu so you can get the most up to date experience along with recommendations on the best dishes to choose at your next dining experience here!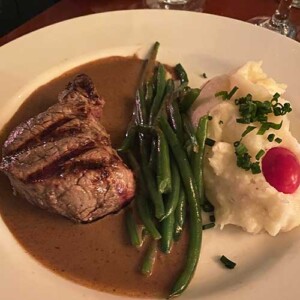 Epcot is the park for all things food and dining! Even when visiting Walt Disney World during a festival I still will recommend sit-down dining because taking a break in the AC is always a great idea. You can book a lunch reservation or a dinner reservation at Chefs de France. The menus are the exact same for lunch and dinner so you will have the best options with either dining times. My personal favorite is to book a dinner reservation before fireworks so we can watch the show with satisfied full bellies ending our night on a high note!
You can order appetizers, entrees, and desert off the menu or purchase the Prix Fixe Menu. The Prix Fixe Menu includes one choice of appetizer, entrees, and desert along with the choice of a glass of Chardonnay or Cabernet Sauvignon for the price of $67.95/ per person. This is a great deal and our go to choice when we dine here. This is the best choice of course for my wine lovers out there!
My go to appetizer is the Salade de Chevre Chaud which is a salad with baked goat cheese with walnuts, grapes, tomatoes, endives with mixed greens. This will not disappoint my goat cheese lovers, but for my non goat cheese lovers the house salad is a great second. My husband adores the French Onion soup appetizer and says it is a must order! You can order Escargot as an appetizer at this French experience, but this is for the most adventurous eaters out there.
When it comes to the entrees the Filet de boeuf grille, sauce poivre, gratin Dauphinois, haricots verts are always my go to. Which is the grilled filet with a peppercorn sauce over potato gratin with a green bean side. This is the most expensive entrée on the menu, so it is a huge value when purchasing the Prix Fixe Menu option. My second go to would be the white wine and lemon marinated salmon served with rice, sweet peas, carrots drizzled in a white wine sauce. These dishes present a genuine French culinary palate and provide high quality taste! My husband opts for the Boeuf Bourguignon, linguine which is the braised beef in a cabernet sauce over a linguine paste with baby onions and carrots. This is his go to and he honestly has never ordered anything else every time we dine here! Being the curious wife I am, I have sneaked a taste of his dish every time and it is DELICIOUS!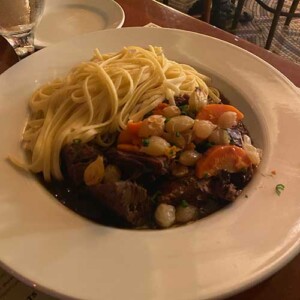 Let's not forget those littles out there that will be dining along with the family during vacations. Kids also have the option for the Prix Fixe menu or just ordering an entrée and dessert. My daughter typically eats everything when ordering the Prix Fixe, but parents you know your kids and can choose what is best for your budget. My daughter has had the grilled chicken and the ground beef steak. She chooses between these two, but typically the chicken dish disappears a lot faster than the ground beef steak!
Moving to desert I am a die-hard Crème Brulé fanatic! This crème Brule is the BEST I have had on property to date! Both my husband and daughter are huge chocolate eaters and will always go for the Tarte au chocolat Valrhona, galce a la vanilla. This dish is a chocolate tarte including a ganache, choclate mousse, with a cocoa sauce over a scoop of vanilla ice cream. Let's be honest all the deserts on this menu makes this meal a well-rounded experience while being absolutely delicious!
Moving on to my favorite part of any meal, the wine menu! The wine menu here is such an experience and if you are appreciative of great French wine this is the place for you to dine with your honey for a romantic dinner. A glass of the Louis de Componac (Sauvignon Blanc) or a glass of the Malard Excellence which is a Brut Champagne really rounded out our last dinner that we had. My husband truly enjoyed the Old Fashion, which is not on the menu but can be made upon request. Always ask your servers if you are in the mood for something specific!
Most of the wait staff are originally from France and will engage you in conversations about their home country to truly make this feel like an immersive experience. It always makes me feel like I have been transported to a Parisian café along the Champs-Elysees. With all of this to say, if you are wanting to immerse yourself in the culture while having an unforgettable meal make sure to ask your Middle of the Magic Travel Agent to book this for your next Walt Disney World vacation!